Splinter Cell, Ghost Recon, and The Division merge in Ubi's 6v6 free-to-play FPS XDefiant
PC tests start next month.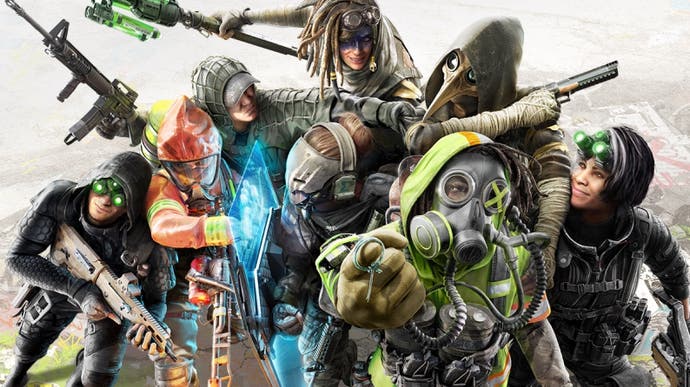 Ubisoft has unveiled its previously teased "new Tom Clancy game", revealing it to be XDefiant, a 6v6 free-to-play first-person shooter that, just as leaks suggested, mashes up factions from Ghost Recon, The Division, and Splinter Cell.
In its announcement video, Ubisoft calls XDefiant a "high-octane" arena shooter - playable solo or with friends - that features an "irreverent and rebellious" take on the normally serious Clancy vibe, alongside "realistic gunplay" and personalised classes in the form of factions.
Each faction is said to offer its own "gameplay and team dynamics", as well as unique passive traits, ultras, and abilities that will "change the moment-to-moment gameplay". Players will be able to mix and match any faction, load out, and weapon - Ubisoft promises an "arsenal of authentic weapons and attachments" - and these can all be switched at will during a respawn.
Initially, XDefiant will feature four factions, inspired by maverick groups from across Ubisoft's Tom Clancy games. Ghost Recon's Wolves, for instance, are a tank-style class with access to higher health and shield-based abilities, while Splinter Cell's Echelon are a support-style class, all about hiding information from the enemy and giving more to team mates. As for The Division, it's represented by two factions: the Cleaners are a fire-based high-DPS assault class while the Outcasts are the healer class.
All factions include a number of different selectable characters known as Defiants, each with their own set of skins that players can use to customise their appearance. Ubisoft says it'll continue to add new Defiants, factions, abilities, maps, modes and more as the game evolves.
XDefiant, which is being lead by Ubisoft's San Francisco studio, is still early in development, but interested parties can sign up now to participate in the game's "early roll-out phases". These closed tests will begin for PC players in US and Canada on 5th August and will initially feature 10 maps: seven standard arena maps supporting three different modes - Domination, Ringleader, and Upload - and three linear maps playable in either Escort and Zone Control modes.
Eventually, XDefiant will be available on PlayStation 4, PS5, Xbox One, Xbox Series X/S, PC, Amazon Luna, and Stadia with full crossplay expected at launch.