Someone imagined a way to adopt abandoned Among Us children
In for a skelding.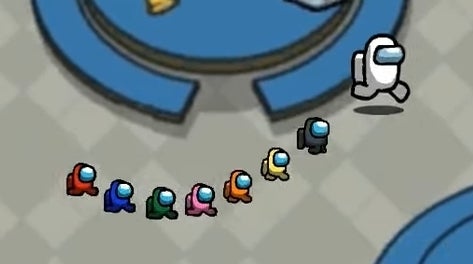 Given the enormous amount of murder that takes place in the average Among Us game, I can't say its spaceships are particularly child-friendly, but apparently that's not enough to stop some crewmates from bringing their kids to work. One of the cosmetic items in Among Us is a mini crewmate pet that follows you around until you die - and will then sit sadly on the floor while you fly around as a ghost. As a result, some games end up littered with orphaned children after their parents have been murdered: but one Among Us fan decided to get creative and imagine a better future.
Unity developer Ahmad Creations has made a video showcasing an "adopt" mechanic for Among Us, which was created by partially remaking the game using the Unity engine. Ahmad Creations then added custom art and coding to get the adopt function to work - and then, of course, edited the final video together. The end result is a trail of little Among Us children, looking significantly happier than when they were abandoned on the cold Skeld floor.
"I hate to admit how long this took me to make", Ahmad Creations said in a hugely popular Reddit post sharing the video. Naturally, I asked how long it took to make.
"Around three days in total - I'm still new to making art and editing videos in general so I hope I'll cut my time in the future", Ahmad Creations told me. "I've been a Unity game developer for the last five years and I'm currently going into YouTube... I needed something unique and trendy to start with so I made the adoption thingy."
It's worth noting the mini crewmate cosmetic costs $2.99 (£2.31) and isn't included in the base game, so it's unlikely we'll see this introduced as an actual mechanic - although it would make paying that couple of quid a little more tempting. The idea and the amount of effort that went into making the mechanic and video is pretty impressive, however, and I'm just glad to see a happy ending for some of those kids.