Sniper Elite 4, OlliOlli 2 and more join Xbox Game Pass in November
Plus Grip: Combat Racing.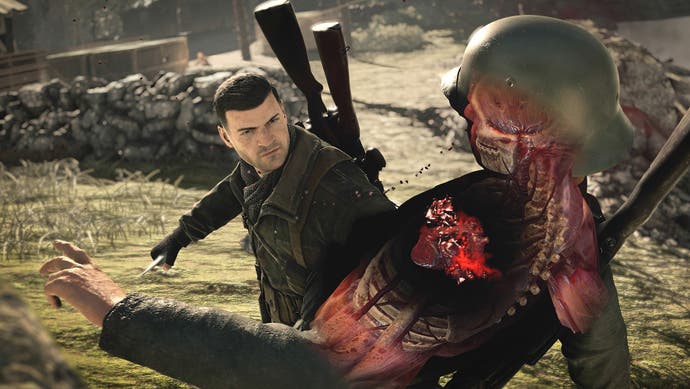 Microsoft has unveiled another batch of titles heading to its Xbox Game Pass subscription service, with Sniper Elite 4, OlliOlli 2, Rise & Shine, Sheltered, and Grip: Combat Racing all due in November.
Sniper Elite 4 and OlliOlli 2 lead the charge as far as oldies-but-goodies go, with the former scoring a coveted Eurogamer Recommended badge when Martin Robinson reviewed it last year. Despite Sniper Elite 4's inevitable rough edges ("doge references aren't particularly welcome anywhere in 2017, least of all in mission text for a WW2-themed video game", said Martin), Rebellion's latest series entry is its finest yet.
"Such blemishes aren't enough to mask the brilliance that shines through here," he opined, "Rebellion has folded in the essence of stealth greats such as Splinter Cell and Metal Gear while keeping the characterful flavour of Sniper Elite itself, and for the first time it's not necessary to make any excuses on its behalf. Sniper Elite 4 is a really good video game. It's as simple as that."
Developer Roll7's OlliOlli 2 is another really good video game. It too managed to earn a Eurogamer Recommended on release in 2015, delivering a second wonderful helping of side-scrolling skateboard action. "Cautious as its updates initially seem, it is another superb twitch game, obsessed with the currencies of difficulty, speed and score," said Eurogamer. "Best of all, it manages to capture so much of the movement and feel of skateboarding without ostracising players who have never touched a board in real life."
Sheltered, in which players must micro-managed the lives of a small group of survivors in their underground bunker following a nuclear attack, launched in 2016 and offered a solid survival core, albeit one with ample room for improvement.
"It needs a few more patches. It needs rebalancing," reckoned Eurogamer, "Right now, though, it's best for people who enjoy fussing over every detail of a family's lives, including when they can and cannot poop, and who is in charge of stitching together ruined sleeping bags."
Lastly, as far as older titles go at least, is Rise & Shine - a run-and-gunner from Adult Swim Games. Although it didn't get the review treatment on release, I can at least tell you that it's described as combining "arcade shooters, bullet hells, and puzzle platformers to create a new blend of strategy and viscera" by its developers. It's also particularly easy on the eyes, which is always nice.
All the above join Xbox Game Pass on November 1st, but there's one more addition on November 6th. This comes in the form of Grip: Combat Racing, which arrives on Game Pass at the same time as it releases for purchase on consoles. Developed by Caged Element, Grip is a spiritual successor to futuristic combat racer Rollcage and has been available on Steam Early Access since 2016. It's had an extremely positive reception on PC, by all accounts, so should certainly be worth checking out on Xbox One.