Skullgirls dev offers its engine to My Little Pony: Fighting is Magic dev for free
If its crowd-funding drive raises even more cash.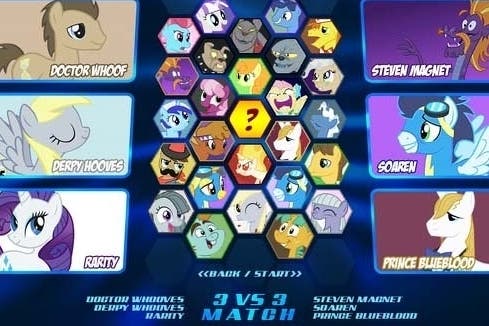 The developer of fighting game Skullgirls will offer its engine free of charge to the developer of My Little Pony: Fighting is Magic for free, but there's a catch.
It will only do so if the Skullgirls IndieGoGo crowd-funding campaign reaches $725,000. At the time of publication it's at $437,000.
Lab Zero Games tweeted the offer over the weekend, and Mane6, the developer of the MLP fighting game, has followed up and confirmed it's the real deal.
In a post on the Mane6 website, the developers described the offer to use the Skullgirls engine as "very exciting".
Last month My Little Pony: Fighting is Magic was shut down after Mane6 received a cease and desist letter from Hasbro.
But the project was resurrected after My Little Pony producer Lauren Faust teamed up with the indie team to create the game in a form that doesn't step on any of Hasbro's hooves.
It will no longer be based on the My Little Pony franchise. Instead, it will feature all new characters in a new setting, but keep the moves, mechanics and style already established.