Sega announces Sonic Boom for 3DS and Wii U
UPDATE: The Japanese Sonic Team is working on something else.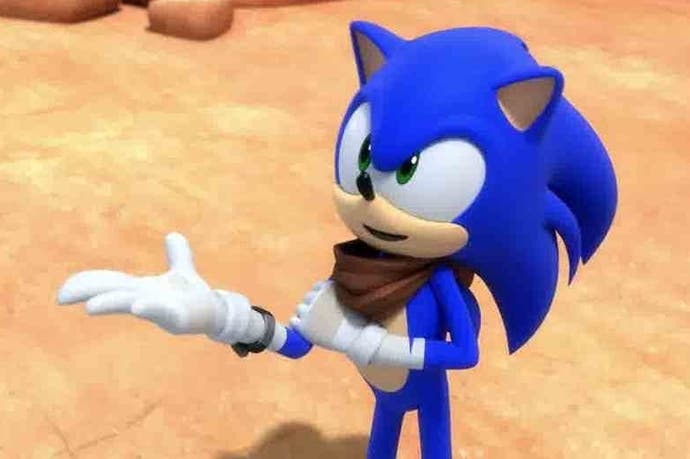 UPDATE: 12.14am: Veteran Sonic game developer Takashi Iizuka confirmed to Polygon that Sonic Boom isn't coming to Japan and the Japanese Sonic Team will continue to make Sonic games in parallel to Big Red Button and Sanzaru's titles.
Iizuka declined to say whether the Japanese studio's title would appear on PS4 and Xbox One, as was rumoured earlier this week based on a fact sheet distributed at Nuremburg Toy Fair. Sega called the document "incorrect," but failed to say what it was brewing up.
ORIGINAL STORY: 8pm: Sega has revealed Sonic Boom, new game for 3DS and Wii U and a fresh franchise push for Sonic the Hedgehog in general.
Described as a "new branch of the Sonic universe", there will also be a CG animated Sonic Boom cartoon series and an "extensive" range of merchandising to go alongside it.
On Wii U, Sonic Boom is being developed by Big Red Button, a studio set up by former Naughty Dog staff in 2008 but which has been oddly quiet ever since.
It seems unlikely that this the developer's first game - and it's unclear how long the team has been working on the project - but what else the studio has been up to is a mystery.
The 3DS version is being worked on by Sanzaru Games, developer of PlayStation 3 and Vita platformer Sly Cooper: Thieves in Time.
Sonic Boom is also notable for being the third and final exclusive Sonic game in the company's 'Nintendo-Sega Alliance' - a deal which was rumoured to be on the rocks earlier this week when a report surfaced of a 2015 Sonic title for PS4 and Xbox One.
Sega subsequently claimed that report was "incorrect", but it did include correct details of the Sonic Boom TV show.
The game's reveal trailer and a clip from the new TV series both lie below.
Watch on YouTube