Samsung's 980 Pro SSD has dropped to £90 in the Amazon Spring sale
1TB of PCIe Gen 4 storage to help boost your PC or PS5.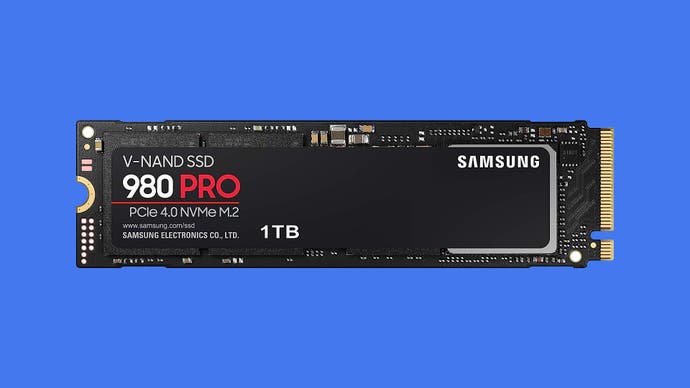 It's the final day of Amazon's Spring sale event, where there have been loads of impressive deals on SSDs from some of the most popular manufacturers of computer components.
They haven't stopped either, as one popular SSD from Samsung has dropped down to £90-its lowest historical price-over the last couple of hours.
The 1TB Samsung 980 Pro SSD is only beaten by their 990 Pro (also on sale), and with this discount offers a very affordable way to give your PC or PS5 a serious speed and storage boost.
The 980 PRO has sequential read speeds of up to 7,000 MB/s which is more than enough to run all the latest titles and load them quickly.
As an M.2 SSD you only need to slot it into your motherboard's PCIe slot and it will do its thing. It's backwards compatible with PCIe Gen 3 boards, so you can still use it with an older motherboard, but you'll get the most out of it with a Gen 4 slot.
The 980 Pro version with a heatsink attached is also on sale, for only £3 more, and is an even better option if you wanted to upgrade your PS5's storage without worrying about overheating. If you're upgrading your PC, then the non-heatsink version is perfectly fine and still benefits from Samsung's Intelligent Thermal Control.
We've seen a lot of similar SSD deals over the last two and a bit days, as well as other great deals on mice, keyboards, headsets and more. Be sure to read our Amazon Spring Sale guide page to see the best deals, and follow along on the Live Blog and the Jelly Deals Twitter to see any more deals that appear over the next few hours.