Sadistic Metroidvania La-Mulana coming to WiiWare this month
It belongs in a museum! Or at least a western console.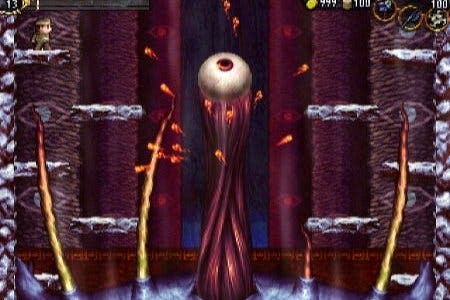 Fiendish Japanese platforming adventure La-Mulana is coming to North America and Europe via WiiWare on 20th September for 1000 Wii Points, publisher EnjoyUp Games has announced.
This marks the cult-favourite's debut on a western console.
Originally released by designer Takumi Naramura in Japan for Windows in 2005, La-Mulana follows the exploits of an Indiana-Jones-esque archaeologist exploring ancient ruins. In true Metroidvania design, there is no clear path to take and the open-ended design grants players numerous avenues to unearth the game's enormous map. Resembling a 2D Dark Souls, La-Mulana is infamous for its punishing design and gargantuan bosses.
A WiiWare remake of La-Mulana was released in Japan last summer by Nicalis, but the western release was cancelled. A multi-language PC remake based on the WiiWare version was released in July on Playism.
See La-Mulana in action in the WiiWare announcement trailer below.