Rome 2 killer camel DLC backlash prompts rethink at Creative Assembly
Players accuse CA of selling cut content as paid-for DLC. CA responds.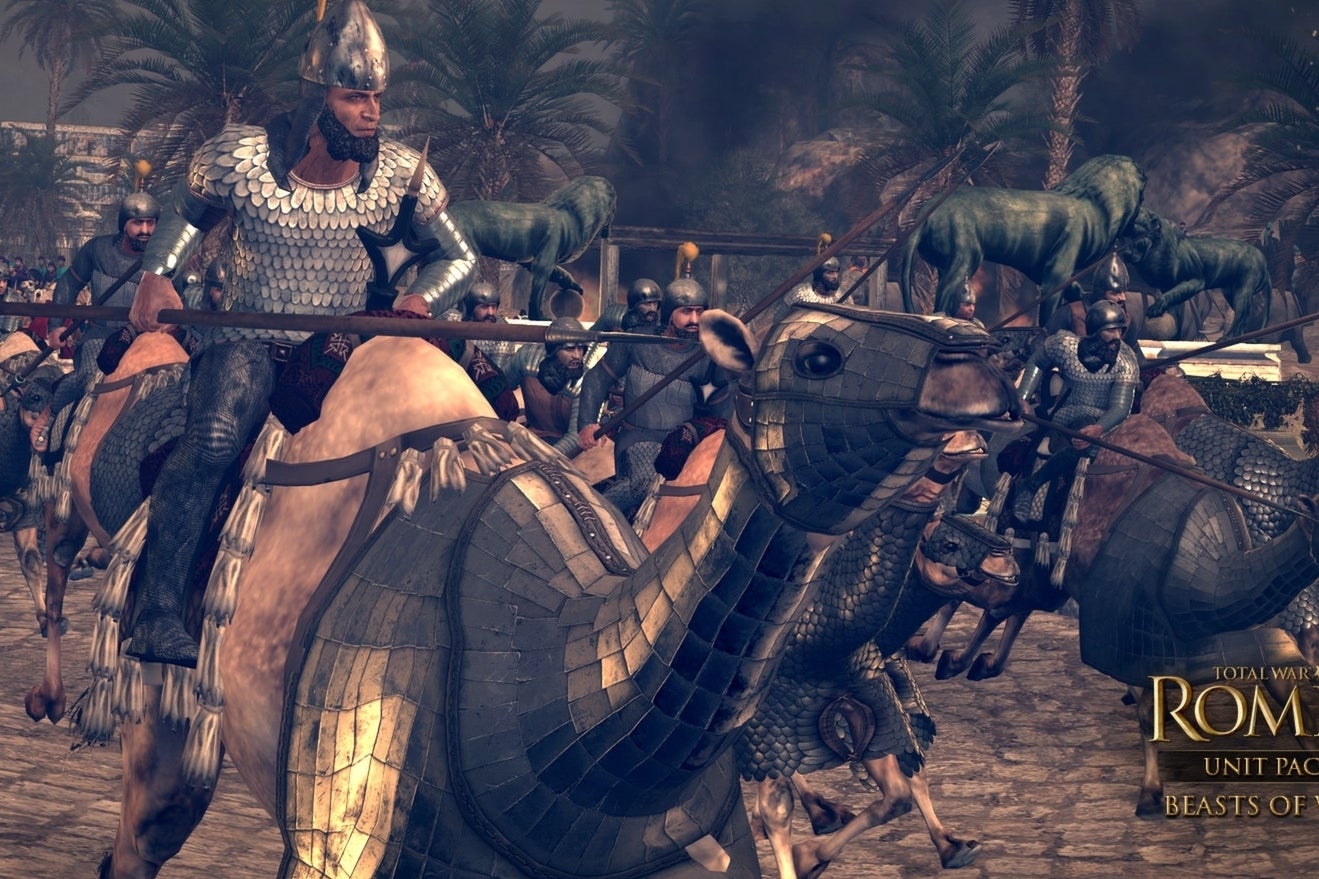 Creative Assembly has insisted it did not intentionally mislead players of Rome 2: Total War after it was accused of holding back cut content to use as post-release paid-for DLC.
This week the UK developer suffered a backlash from its community to the recent Beasts of War DLC. Players claimed one of the units in the DLC, the Camel Cataphracts, was in the game prior to its September 2013 release. The evidence: it can be seen in videos, such as the one below, that promoted the game.
Players have also spotted the Mercenary Naked Swords unit in the above footage. This was released post-launch as part of the paid-for DLC Caesar in Gaul.
The revelation contradicts comments made by unit design lead Jack Lusted, who said prior to Rome 2's release: "Yes there will be DLC for Rome 2. We will detail this closer to release and also talk about why we do DLC and why it is not cut content."
Players have also complained that posts on the official Total War forum pointing out these issues have been moved to the Rants and Raves section. You need to be a registered user to see this part of the forum.
When Eurogamer put these allegations to Creative Assembly, brand director Rob Bartholomew said the issue with the camels was due to a "misunderstanding of what's being shown combined with a marketing error which I certainly appreciate doesn't look good, but wasn't our intent to mislead".
"It's certainly correct to point out that units called Camel Cataphracts and Merc Naked Swords were used in a Let's Play walkthrough before launch," he said.
"The naming is unfortunate, but these aren't the same units that were then released subsequently as DLC. As with all work in-progress content, it is subject to change and revision before the final game is shipped. Content might be revised for all sorts of reasons involving balancing or quality for example.
"The DLC we're looking at here are essentially a different version following increased design, artwork and balancing to match the quality of the other units available. The final selection of units supplied in the game were extensive and we felt they represented excellent value."
Despite this, Bartholomew issued an apology to disgruntled fans.
"At the time of this video's recording, these units were not finished in terms of art, gameplay or design and as a marketing team we should have double-checked the likelihood of them making it into the final game. Obviously we don't want to feature content that won't be in the game intentionally, especially when it would otherwise be pointless, as in this case where there was a huge variety of other great units to show off. That's our basic human error and I apologise for letting that through.
"When it comes to units for DLC, we occasionally go back to those that we liked but didn't turn out good enough, and see if they can be improved on for free or paid-for DLC. These were some of the prime contenders.
"In terms of what deserves to be released in the main game and what should be DLC, that's always going to be subjective and divisive. Given that Rome 2 shipped with more units than any other Total War game by a significantly huge margin, we are confident we got that balance right for the game, but we understand there will always be people who don't agree and we listen and try to make the right call."
Bartholomew said Creative Assembly had now enforced checks to prevent a repeat of the situation.
"They weren't working pre-launch in the sense that they were finished, being largely placeholder and subject to change," he said. "However, I completely appreciate that this sounds like a 'get out' on a technicality to a fan feeling aggrieved by this, so again I do apologise for not thoroughly checking enough that all content in that video was absolutely ready for public viewing and understanding. We've put checks in place now that should prevent that in the future."
"I completely appreciate that this sounds like a 'get out' on a technicality to a fan feeling aggrieved by this, so again I do apologise for not thoroughly checking enough that all content in that video was absolutely ready for public viewing and understanding. We've put checks in place now that should prevent that in the future."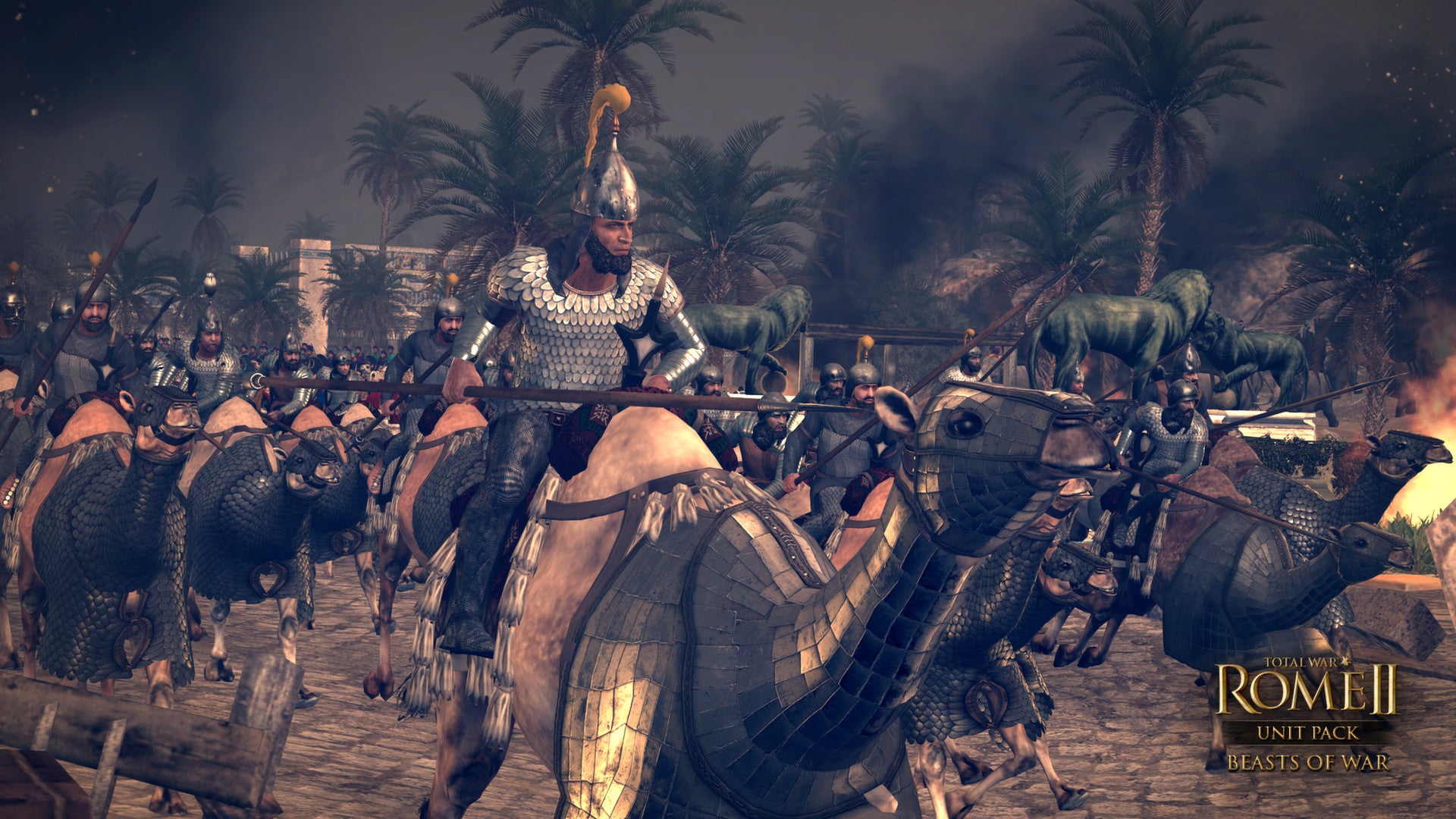 Bartholomew also commented on the issue of forum posts being moved to the Rants and Raves section, saying the focus of its volunteer moderators was on "the more ranting or offensive ones", "but there are plenty of critical threads on the main forum where this topic can be discussed. As on our Facebook page".
Meanwhile, modders have dug into Rome 2's files and unlocked the DLC units after the game was released. The suggestion here is that the DLC is on-disc - and just needs to be "turned on" by Creative Assembly.
"A lot of placeholder content gets put into the game to fulfil various design, development or testing needs, but not all makes the cut for inclusion for one reason or another," Bartholomew explained.
"Knowing that some might find that of interest and obviously not minding if they found it and put it to use, some unused assets were left in the shipped game data. In fact we supplied further data to them to make more factions playable directly after launch. We wouldn't agree that this was 'complete' though, but you could piece it together in a way that might work in a fashion. Much as you could any of the other available data or resources in the same way.
"Post-release, when DLC is released, all versions of the game are updated with that content to enable multiplayer games to work between people who have it and don't, and to ensure all players are playing from the most recent build - we've done this with previous titles (as do other game devs) and we do try to explain this to our community. Here for example. We think it is the best solution all round to ensure that everyone's game is up to date.
"With the release of the beta Assembly Kit for Rome 2 recently, there's been a lot of digging around in the data and putting things together. I don't think we want to limit modding having done so much to try and support it better recently, but we are going to be in situations where modders might produce similar content to us. How we deal with that moving forward is something we will need to look at, hopefully by upping our game and producing content that modders find it more challenging or impossible to produce. We actually have our next international modding summit in March and hopefully we will have time to discuss with the attendees then."
There is of course the broader issue concerning the way Creative Assembly has released DLC for Rome 2 so far. Fans have complained that the studio has issued bitty paid-for unit DLC, and the official Rome 2 Facebook post about Beasts of War is, essentially, a tirade of abuse.
"As we announced before Rome 2 launched, we have an extensive plan for paid and free DLC of all sizes," Bartholomew said.
"Since Empire, our unit packs have been some of our biggest-selling DLC, but we appreciate that they don't float everyone's boat, which is why with Rome 2 we wanted to offer a range of different sized content packs (like the large Caesar in Gaul pack in December) and also free content updates - such as the Seleucid and Baktria playable factions, and the Epirus & Elephants unit pack just last week.
"They certainly aren't the last and players can expect to see more free content updates. Namely Carthage, whose unit roster can expect new reinforcements soon."
Even a cursory browse at threads discussing Rome 2 reveals a feeling among some players that Creative Assembly seems content to release what is considered insignificant unit DLC - and charge people for it - rather than working towards fixing the game (it suffered high-profile issues on release) or releasing what would be considered significant DLC.
"I think with the nine significant updates to the game so far and the tenth currently going into open beta soon, we've shown that we are addressing people's concerns," Bartholomew countered.
"Content and technical improvements needn't be mutually exclusive with different team members working on them. We are absolutely mindful of those technical issues which some players are experiencing and haven't stopped addressing them. We are also aware that a large proportion of fans telling us the game needs 'fixing' are referring to design decisions that aren't to their liking, and that takes more thought and evaluation over time.
"I would say that we are releasing significant DLC, whether that's Culture Packs or Campaign Packs, and again given the clear popularity we have seen with unit packs in the past, 'significance' is something that is subjective and varies from player to player, We would like to cater for all tastes, and will continue to try to do so for the foreseeable future."