Rockstar reassures fans over Red Dead Redemption 2's exclusive special edition story missions
"Not part of the main story", it says.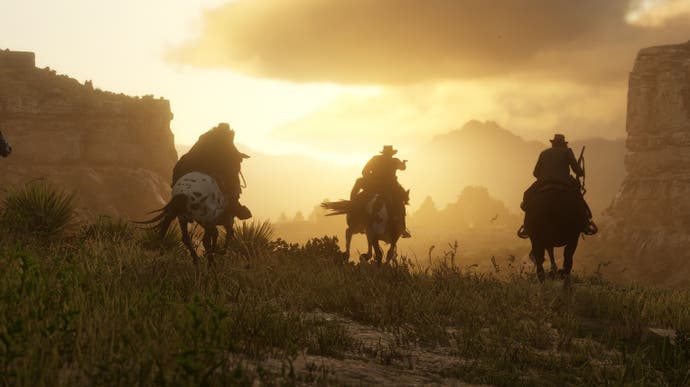 Rockstar has responded to fan concerns regarding the exclusive story mission content found within the various special editions of Red Dead Redemption 2.
As revealed yesterday, the £54.99 standard edition of Red Dead Redemption 2 is joined by a £74.99 Special Edition and an £89.99 Ultimate Edition, variously containing exclusive boosts and items for story and online mode. There's also a separate £89.99 Collector's Box, featuring assorted Red Dead paraphernalia, but no game.
Although the more expensive packages' wide array of boosts and items have raised eyebrows, most of the ire has fallen on Rockstar's decision to keep two story missions - Bank Robbery Mission and Gang Hideout - as exclusive to Red Dead 2's Special and Ultimate Editions.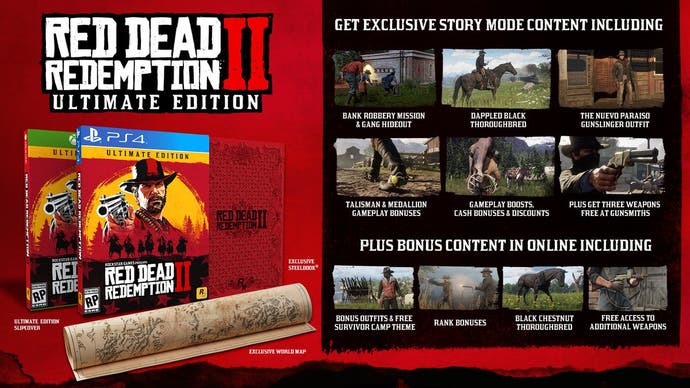 The first exclusive mission, Rockstar explained in yesterday's announcement post, sees "Arthur and a couple of his fellow gang members come up with a daring plan to break in and rob the bank in the southern town of Rhodes". In the second, "the Del Lobos Gang has taken over a hacienda - clear this gang's hideout and rob their stash for a lucrative take."
Understandably, Red Dead fans were miffed that they might need to spend £20+ above the cost of the standard edition in order to play the long-awaited sequel in its entirety. However, Rockstar has moved to reassure players that the standard edition is still a complete experience, noting on Twitter that "The Bank Robbery and Gang Hideout included in the RDR2 Special Edition are side activities created specifically for that edition and are not part of the main story."
As for the £89.99 Collector's Box, which some were surprised to discover did not include an actual copy of the game, Rockstar explained that its intention was to create a package that would "ensure players can pair the Collector's Box with the game edition of their choice (physical or digital)". Fan response to Rockstar's comments have, inevitably, been mixed.
Red Dead Redemption 2 releases, in all its guises, on PS4 and Xbox One on October 26th.