Red Dead Redemption 2 pre-order bonuses include GTA cash and a familiar horse
UPDATE: Details on the Special and Ultimate Editions, £89.99 Collector's Box.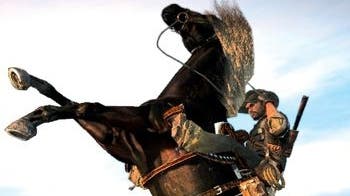 UPDATE: Following news of its various Red Dead Redemption 2 pre-order bonuses earlier today, Rockstar has now unveiled the game's Special Edition, Ultimate Edition, and bumper-sized Collector's Box, featuring a host of thematic paraphernalia.
As previously revealed, all pre-orders gets the War Horse and the The Outlaw Survival Kit - which, Rockstar has now clarified, contains "key supplies for enduring the rigors of life on the frontier", including the likes of Health, and Dead Eye.
Digital pre-orders via the Xbox or PlayStation Store receive a story mode cash bonus, a treasure map (which can be used to guide you in-game), and bonus GTA$, with the amount depending on the edition chosen. The Standard Edition includes GTA$500,000, the Special Edition gets GTA$1,000,000, and the Ultimate Edition brings GTA$2,000,000.
If you opt for Red Dead Redemption 2's £74.99 Special Edition, you'll get the game, and a wide range of story mode exclusives. There's a unique dappled black thoroughbred horse (complete with Nuevo Paraiso saddle), the Nuevo Paraiso Gunslinger Outfit, and free access to the Volcanic Pistol, Pump Action Shotgun, and Lancaster Varmint Rifle from the in-game Smithy.
You'll also get an Eagle Talon Talisman, making Arthur's environmental awareness skill last longer, and the Iguana Scale, which enables Arthur to take less damage while on horseback.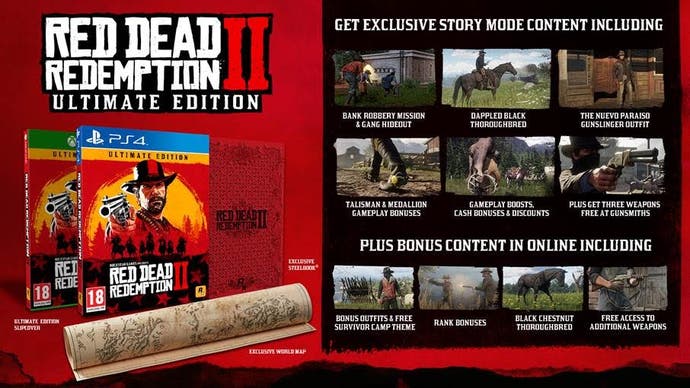 The Special Edition also grants exclusive access to the Bank Robbery Mission ("In which Arthur and a couple of his fellow gang members come up with a daring plan to break in and rob the bank in the southern town of Rhodes", explains Rockstar) and Gang Hideout. The latter enables you to clear out the Del Lobos Gang's hacienda hideout to rob their lucrative stash.
Finally, there's also a Core Stat boost (which benefits Arthur's Stamina, Health and Dead Eye Cores), cash boosts which increase the amount of money earned during robbery missions with the Van der Linde gang and when hunting and selling animal carcasses, and there are discounts on all upgrades to the Van der Linde gang's camp.
The £89.99 Ultimate Edition, meanwhile, includes all the story mode content above, plus exclusives for online mode. There are two outfits for your online character - Blackrose Bounty Hunter Outfit and the Copperhead Enforcer Outfit - as well as the black chestnut thoroughbred horse and High Plains Cutting saddle.
Additionally, the Ultimate Edition grants free online access to the Volcanic Pistol, Pump Action Shotgun, and Lancaster Varmint Rifle. There's also a Survivor theme to customise your personal camp, and online rank bonuses enabling you to level faster, up to rank 25.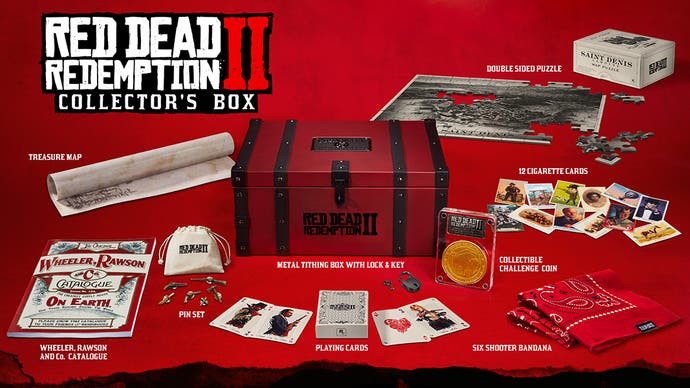 Opt for the Collector's Box (which, importantly, does not contain the game) and you'll receive an eye-catching red tithing box - "Inspired by the lockbox used by the Van der Linde gang", says Rockstar - complete with lock and key.
Inside, you'll find various Red Dead Redemption 2-themed bric-a-brac, including a bandana, playing cards, a set of pins, a collectible challenge coin, and 12 cigarette cards, featuring "Famous Gunslingers and Outlaws, Stars of the Stage and Marvels of Travel and Locomotion".
There's also a treasure map, a 150-page Wheeler, Rawson and Co. Catalogue, and, finally, a 100-piece, double-sided wooden jigsaw puzzle. And, in case you're curious, Google tells me that the first jigsaw puzzle was invented in around 1760, so they definitely did exist by the time that Red Dead Redemption 2's 1911 arrived.
If any of that takes your fancy, the Red Dead Redemption 2 Collector's Box - which, to reiterate, does not include the game - costs at £89.99. You'll find a few more details, and the opportunity to pre-order, over on Rockstar's store.
---
ORIGINAL STORY: Pre-order Red Dead Redemption 2 and you'll get a bundle of bonus bits and pieces, including $500k of in-game money to spend in Rockstar's Grand Theft Auto Online.
It's a neat play for GTAO users - encouraging them to pay up now for immediate reward, before transitioning them over to the inevitable Red Dead Online come November.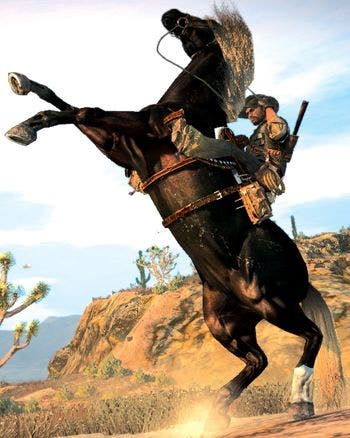 Pre-order customers will also get an Outlaw Survival Kit, whatever that contains, and The War Horse - a legendary steed which was also a DLC unlock in the original Red Dead Redemption.
The War Horse was arguably the best mount in the game - so much so that owning it completely negated the need to buy any other. It had very high stamina and speed - and it also looked rather nice, too.
The pre-order bonuses were spotted - briefly - on the Xbox store by Resetera user Simo, although they have since been removed.
A prequel to the original game, Red Dead Redemption 2 is due to launch this October for PlayStation 4 and Xbox One.
Here's everything we know so far: