Rocket League 'Llama-Rama' Fortnite event dates, times and rewards explained
When you can get involved in the cross-over event between the two Epic games.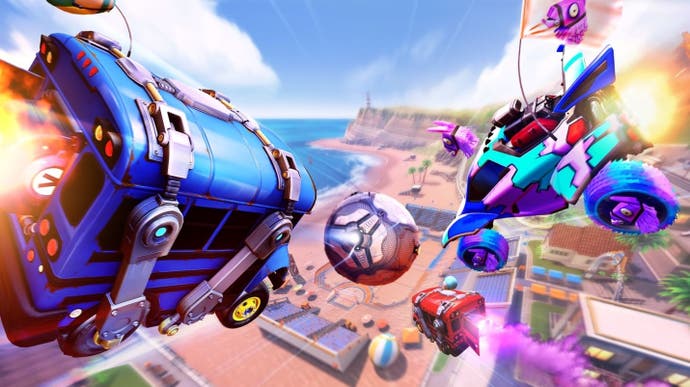 Rocket League has a Fortnite event planned in the week of the game's free-to-play launch.
Arriving shortly after Season 1 begins in late September, participating allows you to unlock Fortnite-themed items in Rocket League - and Rocket League-themed items in Fortnite, and ultimately gives you the chance to drive the Battle Bus. In short, everyone wins.
There are five challenges to unlock, with a reward for each game. You only have a certain amount of time to get everything, however, so the sooner you start once the event rolls out, the better.
On this page:
The Rocket League 'Llama-Rama' Fortnite event dates and times explained
The Rocket League 'Llama-Rama' Fortnite event runs between Saturday, September 26th to Monday, October 12th, and arrives with the conclusion of the DJ Slushii event in Fortnite's Party Royale.
That event starts at the following times:
UK: 10pm (BST / UK)
Europe: 11pm (CEST / West Europe)
East Coast US: 5pm (EDT / East Coast US)
West Coast US: 2pm (PDT / West Coast US)
Whether the Llama-Rama event in Fortnite begins at the start or the end of the above concert is unknown - but be prepared for the switch only to be flicked when it concludes.
Rocket League 'Llama-Rama' Fortnite event challenges and rewards
When the 'Llama-Rama' Fortnite event begins in Rocket League, a sequence of challenges will go live.
Completing each one will unlock a reward in both Fortnite and Rocket League.For the Fortnite rewards, you don't need to do anything for them to appear in game - they will be claimed the next time you log in, or auto-claimed when the event ends automatically.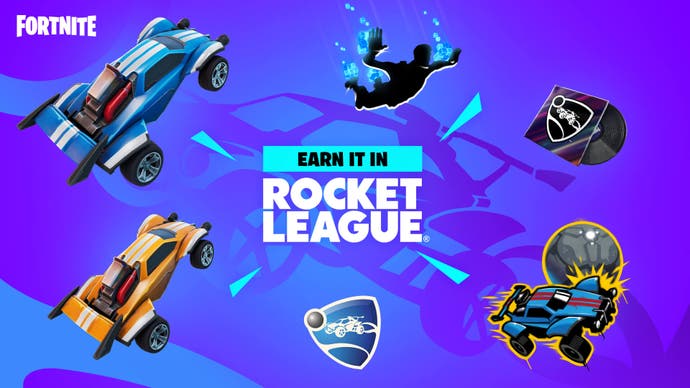 The 'Llama-Rama' Fortnite event challenges and rewards are as follows:
| Llama-Rama challenge | Objective | Rocket League reward | Fortnite reward |
| --- | --- | --- | --- |
| 1. Llamas, start your engines! | Play an Online Match in Any Playlist | Llama Flyer Antenna | Rocket League Spray |
| 2. Flagged for victory | Win 1 Online Match in Casual with the Llama Antenna | Top Llama Topper | Holodata Drop Contrail |
| 3. Top of the world | Get 5 goals, saves, or assists with the Llama Topper | Loot Llama Octane Decal | Rocket Groove Music Track |
| 4. An Epic endeavor | Win 5 Online Matches in Any Playlist with the Llama Decal (Octane) | Llama Wheels | Rocket League Emoticon |
| 5. Llama Legend | Get MVP in any Online Match with the Llama Wheels | Battle Bus + Battle Balloon Antenna, Battle Bus Wheels, and Battle Bus Engine Audio | Octane RL Backbling + style variant |
As shown, from challenge two onwards, you need to equip the item rewarded from the previous objective in order to unlock the next. Completing this entire chain of challenges gives you the Battle Bus in Rocket League by the end - a pretty significant reward.
Remember you have until the 'Llama-Rama' Fortnite event ends on Monday, October 12th to get everything you need. Good luck!