Road Rash spiritual successor Road Redemption gets final release date
While some platforms have been canned.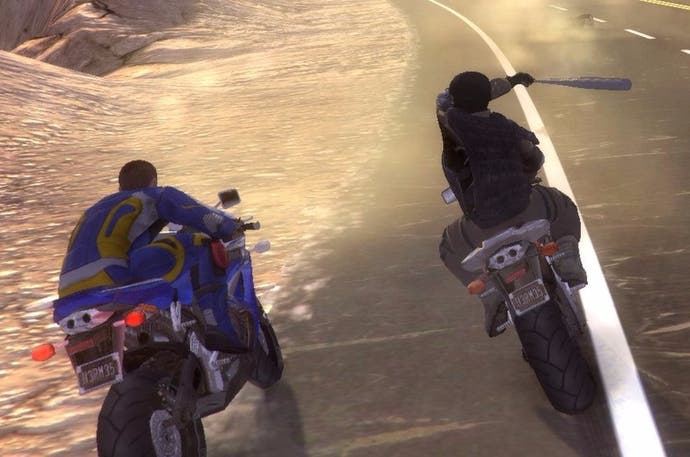 Road Redemption, the spiritual successor to the much-loved 90s classic Road Rash, has a release date, with the final game coming to PC, Mac and Linux on October 15th, while Xbox One and PS4 versions will follow on January 15 2017.
It's a little way off from the original release date of August 2014, though developer Ian Fisch makes a good case for the delay. "We decided that since our backers have had access to regularly-patched PC, Mac, and Linux beta versions of the game, that it's better to take our time and release something great, than to feel pressured to stick to our 2014 Kickstarter date and release something mediocre," Fisch said in an official statement.
"We've seen Kickstarted games like Armikrog and Mighty No. 9 release before they were ready," he continues, "and I don't think that satisfies anyone".
The recent release of Mighty No. 9 - beset as it was by numerous problems - must have set alarm bells ringing at Road Redemption developer PixelDash Studios. PlayStation 3 and Xbox 360 versions of the game have been indefinitely postponed, while the Wii U version is up for evaluation.
"What happened with Mighty No. 9 shows that a potentially great game can be dragged down by trying to bring it to too many platforms," said Ian Fisch. "By putting the focus on PC, Mac, Linux, XboxOne, and PS4, we can maximise Road Redemption's physics, AI, and visuals,rather than be hamstrung by trying to support lower spec machines."
Road Redemption has sold some 100,000 copies during its spell in Early Access, and I like what I've played so far. Dan Whitehead took a look for us back in 2014, and found a game that was rough around the edges but one that had a winning heart.