It looks like Forza is heading to PC
UPDATE: Confirmed, all future Forza Motorsport titles being developed concurrently for Xbox and PC.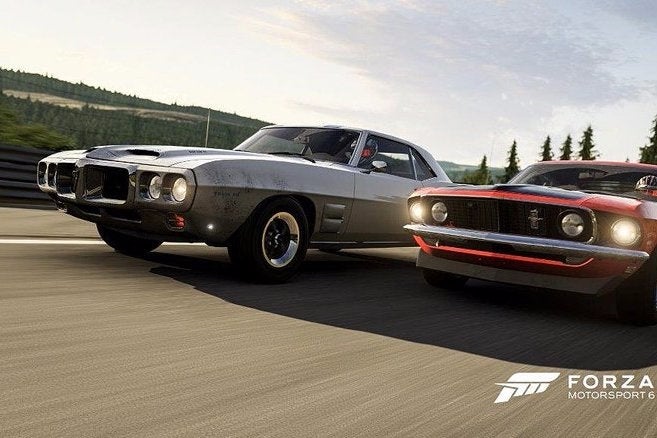 UPDATE: The embargo has lifted on the event and it's been confirmed that Forza is coming to PC. Forza Motorsport 6: Apex will feature 12 themed events and 60 cars, and is not - in the words of Microsoft - a 'microtransaction-driven game'. IGN has more details, and also reports that all future Forza Motorsport games will be developed concurrently for PC and Xbox platforms.
ORIGINAL STORY: Microsoft is bringing its Forza Motorsport series to the PC later this year, with a stripped back free-to-play version of last year's instalment, dubbed Forza Motorsport 6: Apex, coming to Windows 10 this spring.
The news comes via a leaked report by The Seattle Times from a recent Microsoft event in San Francisco - the embargo on which was due to be lifted this afternoon. The emphasis of the show was the positioning of the Xbox brand on PC, a vision Phil Spencer laid out at last year's GDC and one that's been reaffirmed with the recent news that former Xbox One exclusive Quantum Break is now to launch on PC as well.
Forza Motorsport 6: Apex would be the latest extension of that philosophy, as Microsoft brings its own big-name products to its own store on PC as it competes against Valve's popular Steam shopfront.
Microsoft and Forza developer Turn 10 Studios had previously shown Forza Motorsport 5 running on PC in a DX12 showcase at GDC in 2014, though this would mark the first time the series has been available to the public on the platform. It seems likely that this afternoon's embargo lift will also bring news of Forza Motorsport 6's latest expansion, a Porsche-themed pack that leaked early last month and was noted for release later today.