Forza Motorsport 6 takes us back to the series' heyday
Problem is, a lot's happened since then.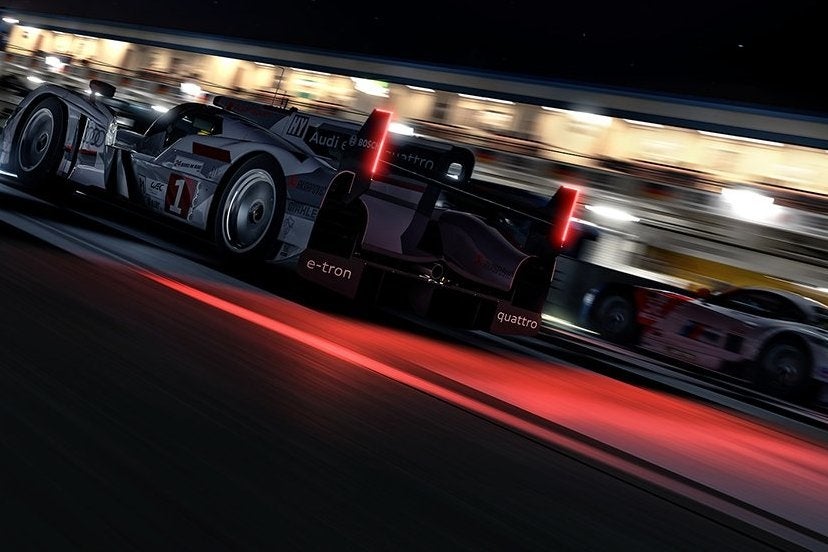 Editor's note: This is an early impressions piece based on a weekend playing the single-player mode of Forza Motorsport 6. We'll have a full review once we've been able to spend more time with the campaign and properly assess Forza 6's multiplayer component.
Why do so many of us dedicate countless Sundays to watching cars drive around in circles? I've never come up with a single satisfactory answer, though there have been moments where it's all come into focus: like how on one sodden late-September morning I traipsed up to Brands Hatch's Grand Prix loop and saw another cagoule-sporting enthusiast camping out under one of the dripping trees. "Why on earth do we do this?", he asked, before he was interrupted by the urgent swoosh of a Lotus Cortina, a petite blur of white and green fury as it launched itself up from the kerbs of Dingle Dell corner. We looked at each other in a moment of silent satisfaction as the answer so perfectly presented itself.
Forza Motorsport 6, Turn 10's latest Xbox exclusive that marks a full decade of the series, asks a question along similar lines in a portentous live-action opening movie that sets an awkward tone for the answers that follow. It's a more glamorous brand of motorsport that Forza's chasing, where Hollywood drama mixes in with a corporate sheen; there's no mistaking, in the cold American voiceover that guides you through menus and a certain steely-eyed gloss throughout Forza Motorsport 6, that this is motor racing as seen through the filter of Microsoft's Redmond campus. It makes for a game that can be as frustrating as it is thrilling.
Frustrating because Forza Motorsport 6 often seems to have been made in its own bubble, even if it is acutely aware of its predecessors' mistakes. Forza Motorsport 6, it's worth noting, is a huge improvement over Turn 10's Xbox One launch title: the track list is generous and broad, folding in classics like Watkins Glen and Monza and re-introducing forgotten favourites such as Sonoma, while the game itself is more open-handed too. The microtransactions that blighted the early days of Forza Motorsport 5 have been excised completely, and within an hour of play I had enough funds to invest in the top-end of Forza 6's 450-strong garage. In many ways, this is the game that Forza Motorsport 5 should have been.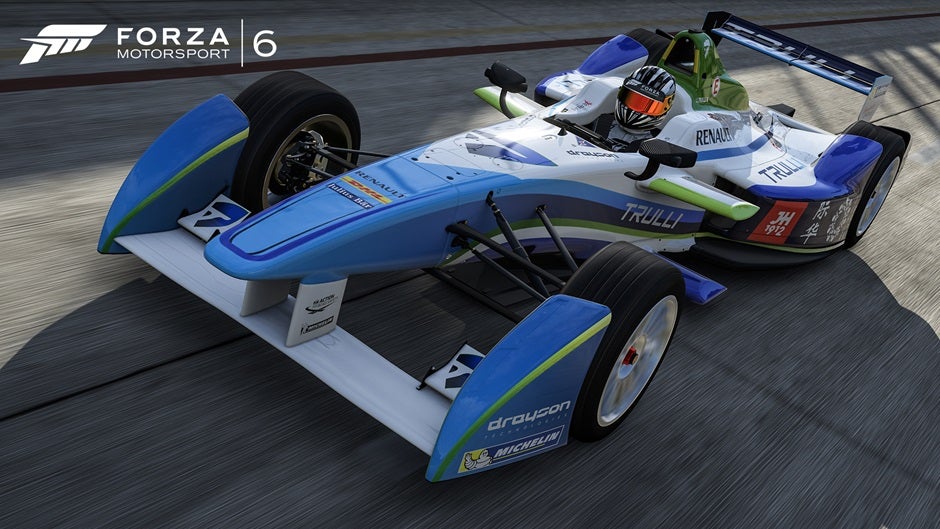 What a joy it is too to get reacquainted with all the glorious detail that sets Forza apart. The car models are uniformly excellent, making the opportunity to prod and poke them in Vista mode much appreciated. I'll never tire of being able to peek under the bonnet of a 1989 Toyota MR2, or to discover the wholesome clunk its doors make as they're gently pulled to. These are creations you're invited to fall in love with, and it's easy to oblige, finding the right backdrop for the right car and losing hours as you throw shapes and try to capture all that craft and fidelity in Forza Motorsport 6's well-featured photo mode.
And what a pleasure to see Turn 10's prowess for handling restored after the wayward Forza Motorsport 5. The melodramatics have been toned down, and even while the feather-light feel of the cars and the tendency for even the most downforce-rich racer to indulge in a dash of oversteer suggests this is still more Metropolis Street Racer than iRacing, it's a much more engaging drive as a result. Sometimes it's a little too throwaway for its own good - guiding a DW12 Indycar around Indianapolis with all assists removed feels disappointingly mindless - but when the right balance is struck there's excitement to be found in Forza's accessible mechanics, and in how it allows you to hurl glorious sportscars around with ease and grace. It's enough to remind you of the series' heady heyday with the sublime Forza Motorsport 4.
The only problem is, Forza Motorsport 4 was some time ago, and an awful lot's happened since. When Kunos introduced Assetto Corsa last year, it proved you didn't need a colossal budget and the backing of a console manufacturer to make an approachable, authentic driving simulator. Whether you prefer what Kunos has conjured for its considerably slimmer selection of cars or Forza's lighter dynamics will always be a matter of taste (and my own, for what it's worth, leans towards the exquisite weight and balance of Assetto Corsa), but some of its other, finer details are worth paying attention to. Like, for example, how you were able to always mimic the assists that exist on real-world models of cars - so you can benefit from the traction control and ABS that exist on a GT3 car, for example, rather than having to fumble around with the settings to get something close to the real thing. Why spend so long toiling away at a simulation only to fall at the last hurdle?
Elsewhere, Slightly Mad proved with Project Cars something we've suspected for a long time: the real world wins out over XP systems and reward tiers any day, and there's no shame in taking wholesale inspiration from it. Why mess around with XP booster packs and mods that give you added grip on certain tracks or improve your grid position - all part of Forza Motorsport 6's oddest new feature that adds nothing beyond the capacity for YouTubers to gurn over it so is thankfully easily ignored - when the real world of motorsport can offer up so much more nuance and excitement? The backbone of Forza Motorsport 6's career, a slow succession of championships that see you work your way from small sports cars to thoroughbred racing machines, seems like a pale throwback to another age in comparison to Project Cars' more liberal, authentic lattice.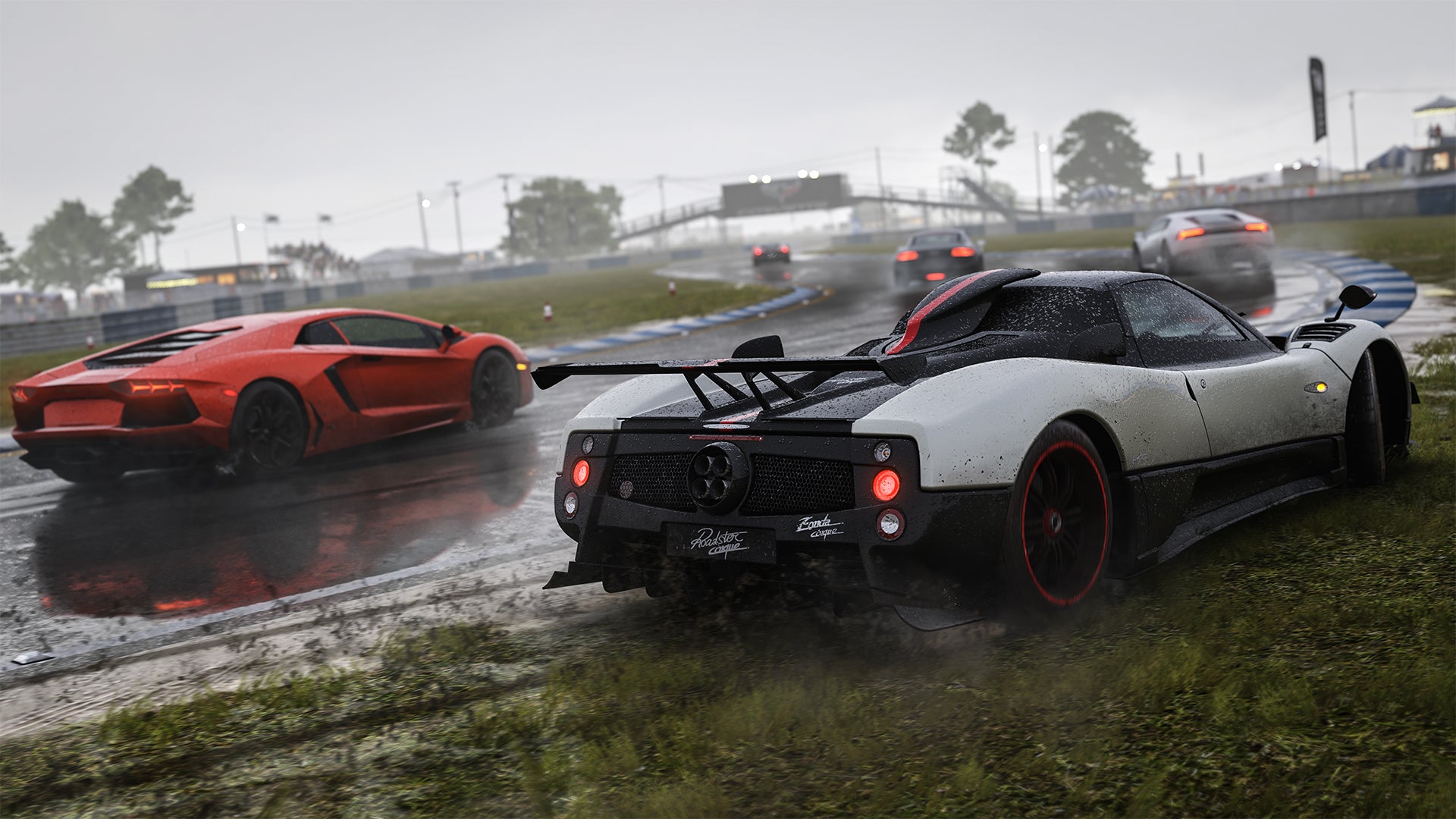 Which is a shame, because elsewhere there's reason to believe that this Forza earns its Motorsport suffix more than any of its predecessors. Showcase events, where carefully selected fields of cars are pitted against each other in one-off races that are predominantly available from the off, are where Forza Motorsport 6 really shines. Feel the aggressive, untamed power of a Can-Am car through Lime Rock Park, experience the strange torque of a Formula E car in a 24-car field around Long Beach or thread an Audi R18 e-tron quattro through the tail-lights of small swarms of GTE cars in a multi-class, night-time Spa race - it's in these moments that Forza Motorsport 6 absolutely comes alive. There's a wealth of great, licensed content in Forza Motorsport 6 - from the eccentric Formula E to V8 Supercars, British Touring Cars and this year's F1 challenger from Enstone - so it's a little sad to not see it front and centre from the off.
Perhaps it's a problem that a game this broad will always have. Trying to find a coherent thread for a package that wants to satisfy those who want to do unspeakable things to a Ford Focus ST as well as those who like their octane a little more pure is likely a thankless, impossible task. That's where Forza Motorsport 6's online suite, always its strongest hand, should help no end, as communities step in and fill the void that's currently there.
Even before that, amidst Forza Motorsport 6's sprawl, there are still moments worth savouring. That Lotus Cortina is beautifully replicated, as is a laser-scanned Brands Hatch that's been doused in an authentically dismal Kent downpour. Forza Motorsport 6 isn't without its shortcomings, but when I'm hot-lapping through the mist-shrouded loop and popping the wheels up over Dingle Dell's sawtooth kerbs, that certain something comes back to remind me what made this series so special in the first place.