Gear of War 4, Forza 6 lead strong August for Xbox Games With Gold
Plus Torchlight and Castlevania: Lords of Shadow.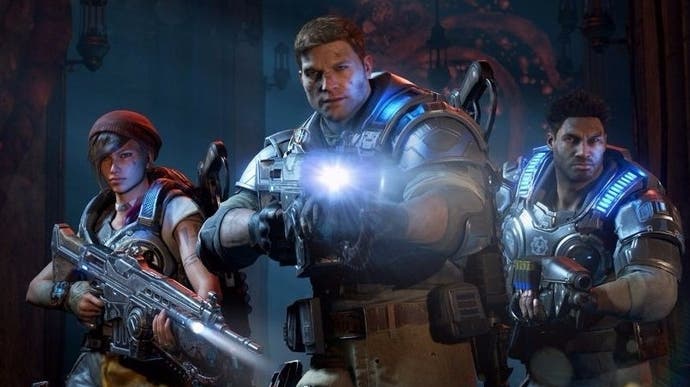 Microsoft has ferreted around in its mystery bag and yanked out another batch of titles for Xbox Games With Gold - and it's a solid offering for August, incorporating Gears of War 4, Forza Motorsport 6, Torchlight, and Castlevania: Lords of Shadow.
Xbox Live Gold subscribers will be able to add Gear of War 4 to their games library for free between 1st August and 31st August, and it's another enjoyable romp for the series - even if its shooting and skewering is considerably more restrained compared to previous instalments.
"I was also hoping for a bit more of that old school Epic swagger, that element of unabashed stupidity which gave the world Lancers and a level set inside a Riftworm," wrote Edwin Evans-Thirlwell of The Coalition's first original Gears effort.
"It's an accomplished revival...but expressive of a developer that is holding itself in check," he continued, "The Coalition has entered the stage on tip toes. Next time I'd like to see it strut."
Next on the list is the Xbox 360 version of Torchlight, the first entry in (sadly now defunct) developer Runic Games' two-strong series of excellent fantasy-themed action RPGs. It's available as part of Games With Gold between 1st August and 15th August.
"It's the best Diablo-like since Diablo II, and a very real rival to the upcoming Diablo III," said Eurogamer contributor Alec Meer back in 2009. "Even though there is nothing new or truly unique about Torchlight, nothing at all, that it so confidently and prettily takes the fight to Blizzard is an enormous compliment about how well put-together this is."
There's no time to dawdle though; come 16th August, developer MercurySteam's third-person hack-and-slash reimagining of Konami's classic Castlevania series, Lords of Shadow, which released on Xbox 360 in 2010, joins Games With Gold, and will loiter around until 31st August.
Borrowing liberally from the likes of God of War and Shadow of the Colossus, Lords of Shadow isn't necessarily original, but it's frequently entertaining - and it certainly finds its own groove as proceedings continue, with some wonderfully inventive set-pieces toward its latter half.
"Even though the wait continues for a 3D Castlevania that truly matches the elegance, complexity and spatial intelligence of the 2D games, this is a polished and enjoyable blast of musty Gothic action in its own right," wrote Christian Donlan in 2011, "MercurySteam has managed to deliver a game that's heartfelt, handsome, and quietly distinct."
Rounding out August's Games With Gold offerings then is Forza 6, available to Xbox Live Gold subscribers from 16th August until 15th September. It's another stellar turn for developer Turn 10's celebrated racing series, and a game that Eurogamer's Oli Welsh called "generous, handsome, impressive and beautifully engineered" back in the halcyon days of 2016.
"Forza Motorsport 6 is too square to be cool, too rational to capture the romance of motorsport, too formulaic to capture its gritty, high-stakes drama," said Oli of the game's rather corporate outlook, "But it's also too good to ignore."