Rage 2 confirmed via leaked teaser
UPDATE: Just Cause and Mad Max dev Avalanche is behind the wheel.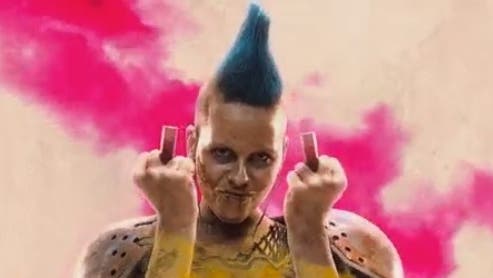 UPDATE 2: Rage 2 is developed by Avalanche Studios, its official website has revealed.
"Developed in association with Avalanche Studios, trading as Fatalist Entertainment AB," reads the small print at the foot of the Rage 2 website.
The phrase "in association" suggests other studios are involved, no doubt Rage developer id Software.
We also have some detail on the game. It's due out for PC, PlayStation 4 and Xbox One, and it's an open world first-person shooter. Here's the official blurb:
"Dive headfirst into a dystopian world devoid of society, law, and order. Rage 2 brings together a true open world FPS experience where you can go anywhere, shoot anything, and explode everything."
The decision to go with Avalanche for Rage 2 makes a lot of sense. The studio has a huge amount of open world blow 'em up experience with the Just Cause series, but it also made an open world Mad Max video game for publisher Warner Bros. The first Rage game seemed inspired in part by Mad Max, and Rage 2, based on its teaser video, looks like it's heavily-inspired by Mad Max: Fury Road.
UPDATE 1: Rage 2 is confirmed - officially this time.
Bethesda published the Rage 2 teaser trailer. Check it out below.
The gameplay trailer and more details arrive tomorrow, 15th May at 3pm UK time.
ORIGINAL STORY: Rage 2 has suffered another leak - this time its teaser trailer has hit the internet.
The shooter sequel first leaked via a Walmart Canada listing, and, after a series of teases on Twitter from publisher Bethesda, it's suffered a second leak with its teaser ad hitting YouTube.
Bethesda is currently working to have the teaser pulled from YouTube, but video game Twitter person Wario64 clipped it.
The teaser reveals Rage 2 likes the colour pink, is over-the-top post-apocalyptic and all a bit Mad Max.
There's still no word on the developer, platforms or a release date, but with an official announcement set for later today, we don't have long to wait to find out.