PUBG XP and levels - how to earn XP fast and levelling up explained
All the info you need on PUBG's event-limited levelling system.
PUBG XP and levels has been introduced as a mechanic alongside the Event Pass system, adding an entirely new form of progression.
It's a big step - at least, it is for the iceberg-slow progress of PUBG - so here on this page you can find our explanation of everything you need to know about it, including how to earn XP and levelling up in general explained.
PUBG XP and levelling up explained
PUBG XP is something you can only earn in a handful of ways, and only applies to the new Event Pass sytem specifically.
The thing that you're levelling up is the Event Pass itself - as you earn XP to go through the levels you'll unlock different rewards (again, this is covered in our PUBG Event Pass page), some of which are permanent and some temporary. You can earn XP regardless of whether you buy the pass itself or not, but the premium rewards are of course kept for owners of the pass.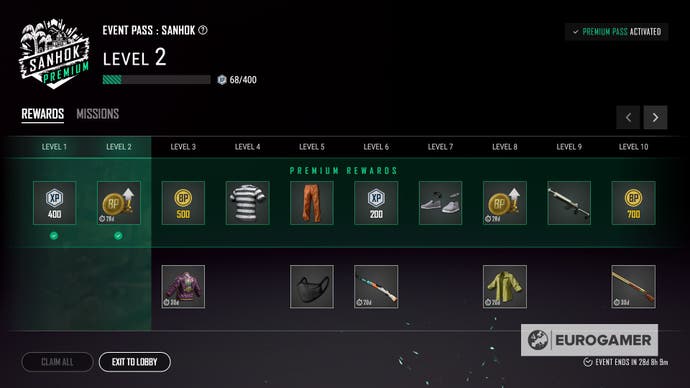 In other words, it's a time-limited progression system, active only for the period of that specific event, at the end of which your progression is (presumably) wiped for the next sason.
The max level is 30, but it's worth noting that, according to some nice mathematical work from redditor Nmid, you'll need to complete a whopping 82 per cent of all Missions - including the daily ones - to actually hit maximum level and earn all the rewards.
That's going to take a huge time investment, and it seems especially hard on players given that there's a 5-level boost for another $5. If you want to get to the top levels in time, you're almost certainly going to have to buy that pass (obviously, wait until as late as possible to do so rather than wasting it on the faster-to-earn low levels). It's not great.
---
PUBG update #29 is live: here's our guide to the latest PUBG patch notes for update 29 to get you up to speed. Meanwhile, we've dedicated pages on the Sanhok map, Erangel map and Miramar map and Vikendi map, too. If you're after some broader advice, our list of PUBG tips and tricks, PUBG weapon damage stats and the best weapons and best PUBG loot locations can help.
---
How to earn PUBG XP and level up fast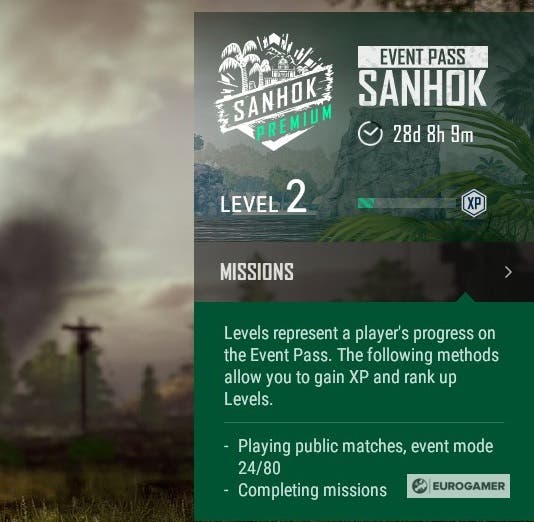 That said, there are still a handful of ways to earn XP. Here's a quick rundown of the methods:
Play matches - By far the slowest way, you'll earn a measly 2XP for every 5 minutes you survive in a match. We'd say it's better than nothing but... it barely is. The amount you can earn this way is capped at just 80XP a day.
Complete Missions - This is clearly the main way to earn XP. You can earn it in the hundreds by completing certain Missions - although, of course, those high-reward Missions are harder to complete. Visit our PUBG Missions guide for a full list of those, including the active weekly ones.
Level up - Funnily enough, some levels actually grant you more XP as a reward, which seems... counterintuitive. Still, hitting certain levels, like level's 6, 12, and 20, will give you a couple of hundred XP towards the next level for your trouble.