Pokémon Go's February event line-up makes for its busiest month ever
Have a heart.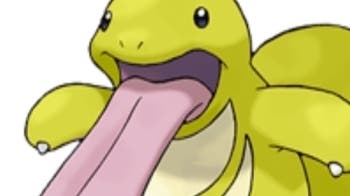 February feels like it may be Pokémon Go's busiest month ever for in-game events, with this weekend's Mincchino Research Day to be followed by a half dozen other things to do.
Most notable, perhaps, is this year's Valentine's Day Celebration. It'll add Unova species Audino and Alomomola to the game for the first time, and see the release of gym defender king Chansey and its family as Shiny.
This will take place from 8am local time on 14 February until 10pm local time on 17th February, during which time pink-coloured Pokémon will appear in the wild, eggs, raids and research.
Sandwiched in the middle of that event is a Licktung Raid Day which offers five free raid passes and the release of Lickitung as a Shiny. That'll run on Saturday 15th February from 2-5pm local time.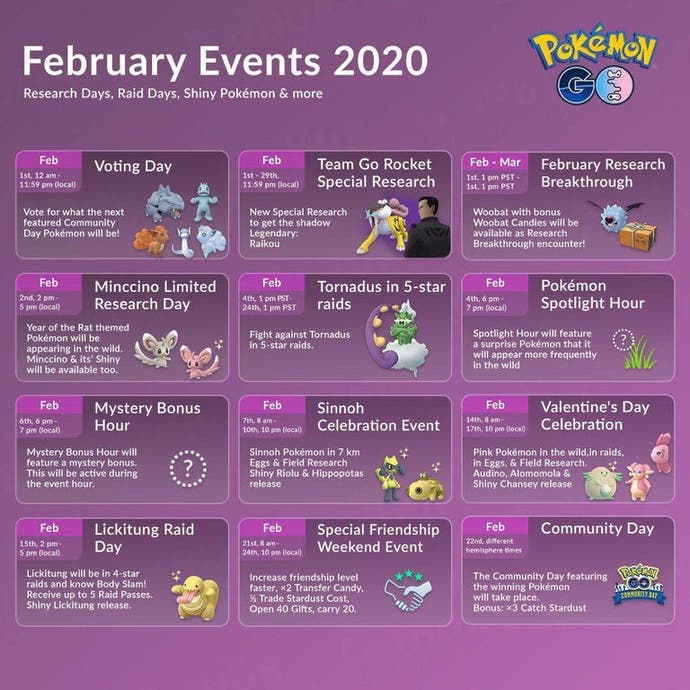 Image credit: Silph Road
Before all of that, however, is a Sinnoh Celebration event due to run from 8am local time on 7th February until 10pm on 10th February. This will see Sinnoh Pokémon spawn more commonly in the wild, while a range of interesting (and non-interesting) Sinnoh species will pop up in 7km eggs.
The highlight of the Sinnoh event is the release of Shiny Riolu (which you'll need to hatch) and Shiny Hippopotas. Riolu, of course, evolves into the meta-defining Lucario. (And the Shiny version is very pretty.)
February's final event is a Friendship Weekend, which will see in-game friendship levels increase faster, and trades offer double candy and cost half the Stardust. You'll be able to open 40 gifts per day and carry 20.
This will run from 8am local time, 21st February until 10pm local time, 24th February - which will overlap February's Community Day on 22nd February. (We should hear the result of this weekend's community vote in a few hours.)
Finally, two brand new hour-long things will happen this week, as developer Niantic tests a couple of new ideas. From 6-7pm local time both tomorrow, 4th February, and on Thursday, 6th February, a surprise Pokémon will be boosted in-game and a mystery in-game bonus will take affect, respectively. Here in the UK, we should have advance warning of what both will be as earlier time zones report in.
And that's it! Along with new Giovanni research for Shadow Raikou, the release of heart-nosed Woobat as seven-day research reward, and Tornadus in Tier 5 raids from 9pm UK time on the 4th. Phew.