SandgemTown and Route 202 Pokémon, trainers and items in Pokémon Brilliant Diamond and Shining Pearl
Our complete guide to Pokémon BDSP's trainers, items, and wild Pokémon.
Sandgem Town and Route 202 are your next stops in Pokémon Brilliant Diamond and Shining Pearl, following on from Twinleaf Town and Route 201 in your adventure.
Below we'll take you through all the key details for the location, including any Pokémon encounters, trainers, and items that might be available, plus a walkthrough of your key objectives and anything else you'll need to know.
On this page:
Sangem Town Pokémon, trainers and items
Once you reach Sandgem Town, head to the lab and talk to Professor Rown, who'll give you a Pokédex and send you off on your main quest: to fill it out by discovering and catching as many Pokémon as possible.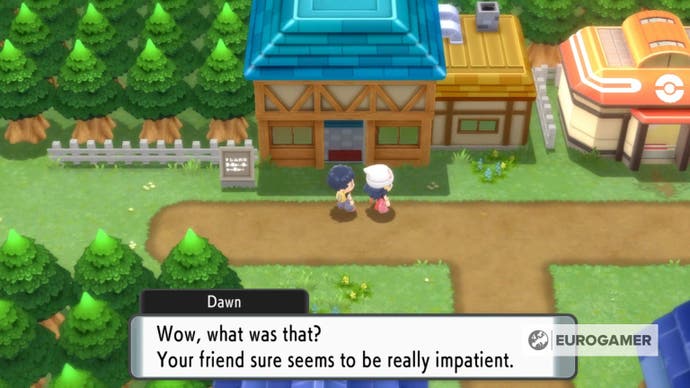 Before you set off fully, there are a final couple of things to do. Quickly pop down south onto the start of Route 219 to grab an Antidote on the sand. Then go back home first to Twinleaf Town and talk to your Mum. She'll give you a Guidebook, which has some useful tips for newcomers and is something you should check whenever you get stuck. And finally, Barry's Mum will give you a Parcel before you head off too, to give to Barry when you catch up with him in Jubilife City.
Items
| Items | Location |
| --- | --- |
| Pokédex | From Professor Rowan in his lab |
| Guidebook | From Mum when you go back to her after getting Pokédex |
| Parcel | From Barry's Mum when you talk to yours after getting Pokédex |
| Antidote | Route 219 on the left by a rock |
And that's it! Finally you can get started on the "proper" adventure - head to Sandgem Town and then north, to your next stop: Route 202!
---
It's time to revisit Sinnoh! Our now complete Diamond and Pearl walkthrough to the main story is where to start. Your journey begins with selecting your starter Pokémon near Twinleaf Town, before visiting Sandgem Town and Jubilife City. To become a Pokémon Master, you need to defeat the Gym Leaders in Oreburgh City, Eterna City, Veilstone City, Pastoria City and Hearthome City, along with three others.
Aside from badges, you'll want to grab Mystery Gift codes, complete the Sinnoh Pokédex by using Honey Trees, visiting the Great Marsh and the Pokémon Hideaways in the Grand Underground. Take the time to catch Gible, Spiritomb andDrifloon! Finally, you can now catch Arceus.
---
Route 202 Pokémon, trainers and items
As you enter Route 202, you'll get a tutorial from Lucas/Dawn on how to catch Pokémon, and then a gift of plenty of Poké Balls to try it out for yourself.
Catch whatever Pokémon you fancy from the route - it's advisable to grab a few, just to pad our your party a bit until you have more choice later on - and then head north to Jubilife City.
Available Pokémon
| Pokémon | Availability |
| --- | --- |
| Shinx | Grass |
| Starly | Grass |
| Bidoof | Grass |
| Kriketot | Grass (morning/night only) |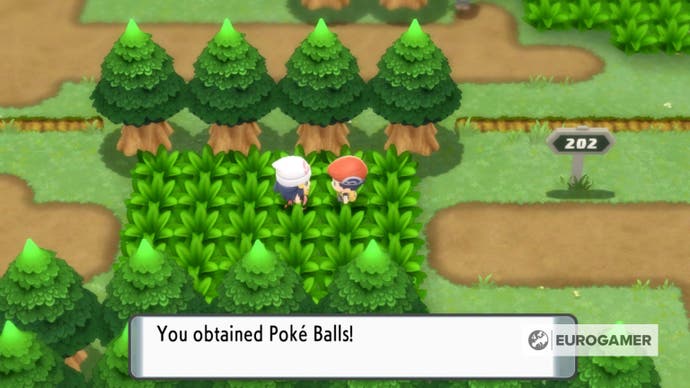 Items
| Items | Location |
| --- | --- |
| Poké Ball x20 | From Dawn after she shows you how to catch Pokémon |
| Potion | Far left of top left grassy patch |
Trainers and Opponents
Trainers
Pokémon
Level
Youngster Tristan
Starly
Lv.5
Lass Natalie
Bidoof
Bidoof
Lv.3
Lv.3
Youngster Logan
Shinx
Lv.5
Next stop: Jubilife City!
For more guides and links to the rest of our walkthrough pages meanwhile, return to our main Pokémon Brilliant Diamond and Shining Pearl walkthrough hub.