Hearthome City, Gym Leader Fantina and Amity Square in Pokémon Brilliant Diamond and Shining Pearl
Our complete guide to Pokémon BDSP's trainers, items, and wild Pokémon.
Hearthome City, it's Gym Leader Fantina, and nearby Amity Square are what you're after next in Pokémon Brilliant Diamond and Shining Pearl, following on from Route 208 in your adventure.
Below we'll take you through all the key details for the location, including any Pokémon encounters, trainers, and items that might be available, plus a walkthrough of your key objectives and anything else you'll need to know.
On this page:
Hearthome City Pokémon, trainers and items
Enter Hearthome City for the first time and a lady's Buneary will run up to you - she's Keira (the lady, not the Buneary...), a Super Contest Show judge, and if you head over the Super Contest Hall she'll show you around a bit.
There are a lot of things to do here beyond that, too. In the east of town by the gate, a Hiker will give you a Pokémon Egg, which will hatch into a Happiny (which evolves into Chansey) if you keep it in your party and walk around with it for a very long time.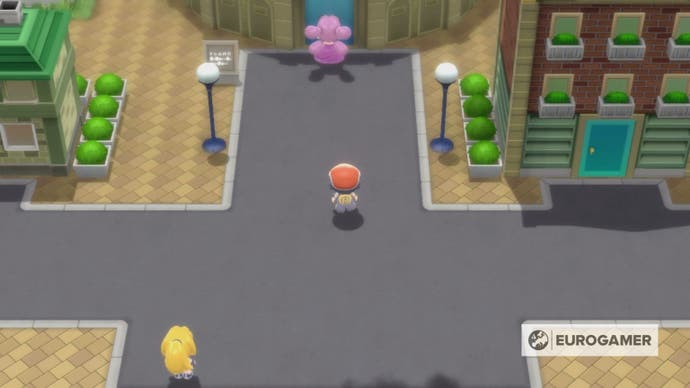 Talk to the Fisher in the middle of town to be guided to the Contest Hall.
Bebe, the creator of your computer's storage boxes, is also here, in the house to the right of the Pokémon Center if you fancy a brief chat.
There's a building by the Poké Mart called the Poffin House, where you can cook Poffins from Berries, if you have a Poffin Case. These are used to boost Pokémon's Contest-related stats - go the Pokémon Fan Club and talk to the people there to get a case!
Head to the Super Contest Hall and you'll find Fantina, the city's Gym Leader, outside. Turns out you won't be able to battle her just yet (in fact, you need several other Gym Badges before you do!), but inside you'll find your Mum, who gives you a Tuxedo for competing in the contests there if you want to take part.
Head over to the centre of town and you'll be bumped into by Barry, who gives you a battle. His team will be different according to which starter Pokémon you've picked.
Head to the north to Amity Square, to quickly explore there and get a couple items (and the ability to have your Pokémon follow you around in the overworld!) and then finally, head east out of the gate, which opens up after you beat Barry. The southern gate is still blocked, so this is your only way onwards: to Route 209 and the Lost Tower!
Available Pokémon
| Pokémon | Availability |
| --- | --- |
| Pokémon Egg | Hiker near south-east exit |
Items
| Items | Location |
| --- | --- |
| Shell Bell | From woman with green hair upstairs in building next to Pokémon Fan Club |
| Poffin Case | From Fan Club Chairman in Pokémon Fan Club |
| Ethereal Sticker C | From Keira when you enter the Contest Hall |
| Tuxedo | From your Mum in the Contest Hall |
| Mild Poffin | From man at reception in Contest Hall |
Trainers and Opponents
Trainers
Pokémon
Level
Barry (if you chose Piplup)
Starly
Buizel
Grotle
Ponyta
Lv.19
Lv.20
Lv.21
Lv.20
Barry (if you chose Turtwig)
Starly
Buizel
Roselia
Monferno
Lv.19
Lv.20
Lv.20
Lv.21
Barry (if you chose Chimchar)
Starly
Ponyta
Roselia
Prinplup
Lv.19
Lv.20
Lv.20
Lv.21
Amity Square item locations and details
Amity Square is effectively a play area for you and your Pokémon. In the original Diamond and Pearl games, you could let one of your Pokémon out of its ball here and have it follow you around for a bit.
In Brilliant Diamond and Shining Pearl, however, things go one step further. Explore Amity Square, picking up items that you find, and then leave when you're ready - on the way out, the person minding the gate will tell you that since you have such a close bond with your Pokémon, you can let them follow you around outside Amity Square too!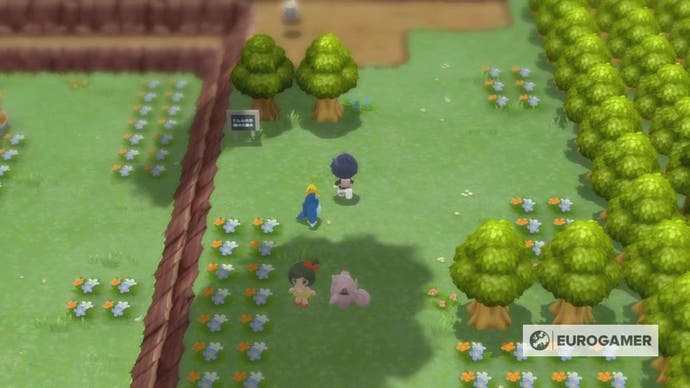 From now on, just open the menu and go to "Pokémon", select the one you want to follow you, and select "Walk with", and it'll follow you around any outdoor area. You can also talk to it and, occasionally, it'll give you a berry it's found. Awesome!
Items
| Items | Location |
| --- | --- |
| TM45 Attract | Top centre of Amity Square |
| TM43 Volt Switch | Bottom centre below fountain |
| Amulet Coin | Inside left rock building, top right of area |
| Spooky Plate | To the right of right rock building, top right |
| Various Berries | Talk to your Pokémon as it follows you |
Hearthome City Gym puzzle answers and how to beat Fantina
At last! Finally, after a seemingly endless runaround across the other Gyms and towns of Sinnoh, Fantina is available for you to battle at Hearthome City Gym.
To get to her, you need to answer a series of questions correctly. This is easy enough, for a couple of reasons: one, you can just use a process of elimination, walking through all the available doors until you find the correct one; and two, the questions themselves aren't particularly challenging at all.
Here are the answers - each time you'll be presented with three doors, one for each of the three possible answers. If you want to battle all the trainers, then go through the correct door last. If you want to skip the trainer battles, go through the correct door first.
Hearthome City Gym puzzle answers
The first correct door is on the right (answer is 15)
The second correct door is the middle one (answer is 40)
The third correct door is the left one (answer is 39)
Final correct door is the right one (answer is 15)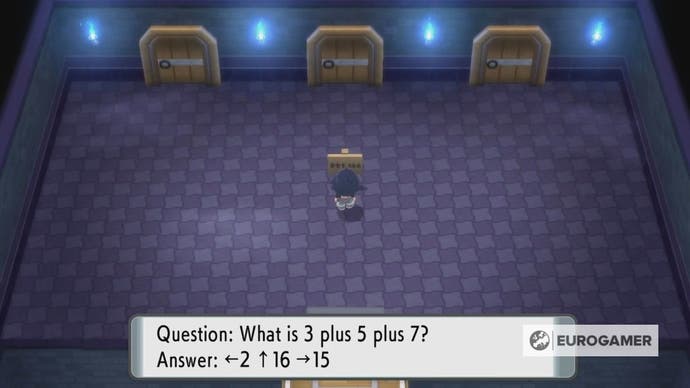 Once you've reached Fantina, it's time to battle! Dark-type Pokémon are your best option here, but be aware Fantina's Mismagius can use Dazzling Gleam, which can do some hefty super-effictive damage to them if you're not careful.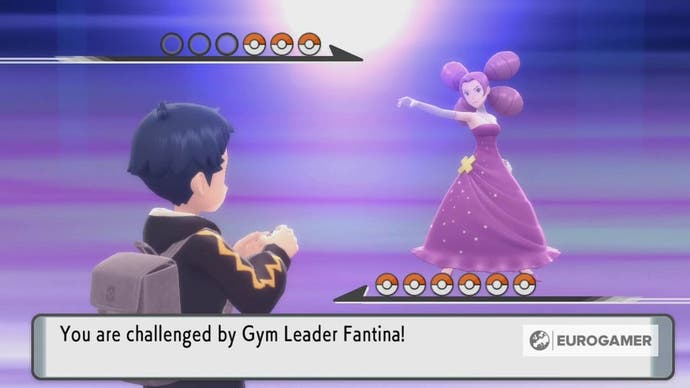 She opens with Gengar. Gengar's held berry will reduce the damage from one super effective attack on it, meaning it'll be hard to take down in one hit. Given its high speed and special attack, you should be prepared to take at least one big hit from it, so be careful.
Drifblim, which can use Will O Wisp to land a burn easily, also has a tricky abilty, Aftermath, which can leave hefty damage on whichever Pokémon knocks it out, so just be prepared for that.
Finally there's that Mismagius, which Dazzling Gleam aside should still be easy enough to take down with a few Ghost- or Dark-type moves!
Items
| Items | Location |
| --- | --- |
| Relic Badge | From Fantina when you defeat her |
| Fantina's Stickers | From Fantina when you defeat her |
| 5x TM65 Shadow Claw | From Fantina when you defeat her |
Trainers and Opponents
Trainers
Pokémon
Level
Youngster Donny
Gastly
Haunter
Lv.27
Lv.29
Lass Molly
Misdreavus
Lv.30
Camper Drew
Gastly
Gastly
Gastly
Lv.27
Lv.27
Lv.27
Picnicker Cheyenne
Drifloon
Misdreavus
Lv.28
Lv.28
School Kid Mackenzie
Drifloon
Drifloon
Lv.28
Lv.28
School Kid Chance
Haunter
Lv.30
Ace Trainer Allen
Gastly
Haunter
Gengar
Lv.26
Lv.28
Lv.30
Ace Trainer Catherine
Misdreavus
Drifblim
Lv.30
Lv.30
Gym Leader Fantina
Drifblim
Gengar
Mismagius
Lv.32
Lv.34
Lv.36
After you defeat Fantina, you can now finally use the Surf Hidden Move from your Pokétch! This opens up a handful of optional areas, including some routes you've already visited, but if you want to just carry on with your main quest then your next stop should be Route 218 and Canalave City!
For more guides and links to the rest of our walkthrough pages meanwhile, return to our main Pokémon Brilliant Diamond and Shining Pearl walkthrough hub.