PlanetSide 2 PS4 beta planned for 2014
SOE shooting for 1080p60.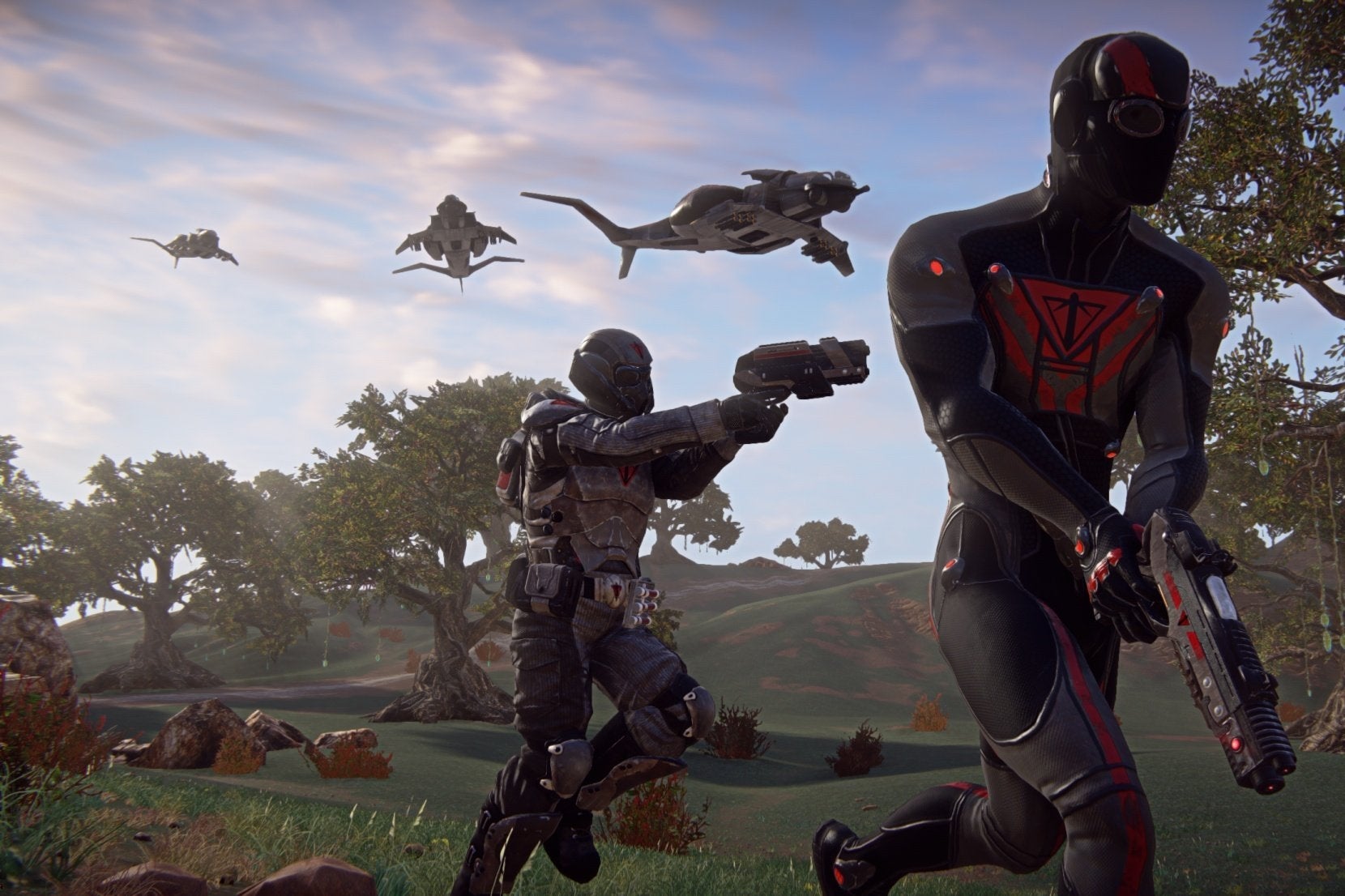 Sony Online Entertainment has been quiet on the PlayStation 4 version of massively multiplayer first-person shooter PlanetSide 2 for some time. But it's still on track for 2014 - in beta form at least.
Creative director Matt Higby told Eurogamer a beta will launch on PS4 by the end of the year. More information is expected to be announced during December's PlayStation Experience event in Las Vegas. The PC version of PlanetSide 2 turns two-years-old later this month.
The PS4 version, announced in June 2013, has taken time to develop because the designers want PlanetSide 2 on PS4 to feel like a "full-on console experience" and not just a port of the PC original, Higby said.
"As much as it sounds like we're blowing smoke, we're working hard to release a game that feels like a full-on console experience and not just like a port," he said.
"So it's taken us quite a long time to re-jigger our user interface and our controls. There's a lot that needs to get done."
Because it's an MMOFPS there are more user interface screens than you get with a typical FPS, Higby added. All of these need to be reworked for a console controller. "That's been a really large design process, and we've done a lot of iteration on it to try and make it right.
"But our goal is at the end of the day to have our launch on the PS4 feel like a great PS4 native console game. Not just a PC port. So it's taking a while."
On PC PlanetSide 2 is free-to-download and supported by micro-transactions. Higby said the PS4 version will work similarly to the PC version in this regard. However, rather than being able to buy the Station Cash virtual currency, as it's called on PC, on PS4 you will buy Marketplace Cash, which is currently used in the PS4 version of DC Universe Online. You'll then use this to buy in-game items. "The items that are sold are going to be the same as the PC items," Higby said.
As for the visuals, Higby said the PS4 version compares "very favourable" with the PC version. The PS4 version, he said, uses the ultra textures, full particle effects, shadows and lighting from the PC version.
"From a graphical fidelity perspective, I think people will be very impressed with what they see on the PS4. That's always one of those things people are sceptical about. I see every time we post an article like this I always get called out: 'haha, it's bullshit that he's saying it's going to look as good.' It really does."
The bottleneck is not on the GPU side but on the CPU side, Higby explained. "It's because we're tracking and updating so many different players moving on your screen and moving around at once. All that animation and all the audio that's associated with all those characters running around, all of their projectiles being simulated in their client, all those things end up hitting the CPU, not the GPU.
"So, generally when your frame-rates are low, it's a CPU problem, not a GPU problem. And that's where we're optimising right now, to get our CPU running faster so the game is running at a more consistent frame-rate on the PS4."
Higby said SOE is "running for 1080p" resolution on PS4, and, "we're still trying to shoot for 60fps". But as far as the frame-rate goes, this may change.
"We're trying to get a solid frame-rate," he said. "So if we go to 30 it'll be because we want to maintain a completely solid 30fps. But that's the optimisation we're working on right now. And we're still grinding on it.
"Generally speaking the client is running at well over 60fps. In a really big fight it bets bogged down. That's the bottleneck we're chasing down."
While there may be some movement on PlanetSide 2's frame-rate, we do know there will be no cross-platform play between PS4 and PC.
Technically it's possible - indeed SOE staff are playing the PS4 version on live PC servers as we speak. But the reality is it won't be featured.
"It has to do with platform exclusivity," Higby said.
"People don't necessarily want to be able to take a character you've spent money on on the PC and bring that character onto the PS4 without having spent money on the PS4.
"It also has to do with the way we do updates. On the PlayStation there's a process of QA that every update goes through. We won't be able to guarantee that our updates are in synch on the PC and the PS4 because of that. If we wanted to have the game be cross-platform we would need to make sure the servers were constantly in complete synch.
"But because of the additional layer of QA authentication that patches go through on the PlayStation platform, there's very little possibility of us being able to maintain a synch between the PC and the PS4. So a client could connect to one and maybe get something that doesn't even exist on the other one yet. That would cause all kinds of issues."