PES 2013 review
Title decider.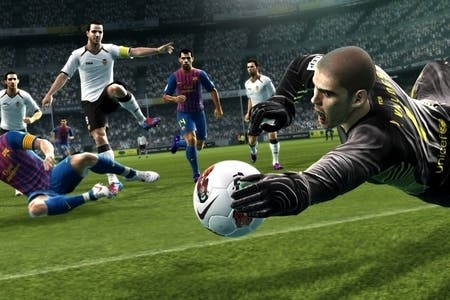 Wake up, everyone! With PES 2013, Konami has finally pulled off the excellent game it's been threatening to release for the last couple of years. On the scale of dramatic football comebacks it's not quite up there with That Night in Barcelona (© Clive Tyldesley) or The Miracle of Istanbul, but it surely comes close.
The first thing you notice is what you don't notice. Players are much less likely to ignore the ball as it glides past them within easy reach than they were in PES 2011 and 2012, and somebody's finally introduced the ball to Sir Isaac Newton, so it no longer behaves as though it's weaving through a cluster of dancing singularities, subject to random stabs of acceleration. At a basic level, it's as though all the dangling threads of unfinished programming have been knitted together into something approximating the actual sport.
This year's instalment gives you a much more responsive, consistent and productive range of basic controls, too. Passes along the ground are fast and accurate, there are driven and floated aerial passes, and a good first touch is down to a timely stab of the right trigger, injecting a bit of skill into receiving the ball.
You can do much more with the ball, too, and Konami has slowed the game down to emphasise this. You can put your foot on it and perform quick and easy little rollovers to keep control in tight spaces, you can flick it up and distribute it or knock it over a defender's head if he's right behind you, and you can experiment with fully manual passes and shots. A new controlled shot and driven 'Knuckle' shot gives you more attacking options as well.
One of the biggest changes comes in defence, where PES has now joined FIFA in switching from pressing to containment as the primary means of holding off the opposition. This means that you tend to defend by switching to an appropriate player and then staying goal-side of the man in possession, managing the distance between you with the analogue stick.
The onus is then on the attacker to go past you, either using the close-control buttons (or trying for a cheeky nutmeg) or dragging you out of position and exploiting that space. It's imagination versus patience and composure, as the player on the attack drops his shoulder or waits for supporting runs (or initiates them with team-mate controls) and the defender waits for a good moment to stick out a foot or uses a second defender to directly press the ball. (The slide tackle might as well be called The Yellow Card Button, and is all but forgotten except in desperate circumstances.)
These are strong fundamentals, then, although there are other areas that could still do with work. Relative player speeds still feel a bit unrealistic and the physical side of the game - while a great improvement - is nowhere near as developed as it is in FIFA. Heading arguably needs the most work, though - players are still rooted to the spot under the arc of goal kicks and it's too easy to lose 1-0 to the first corner you concede. It would be nice to be able to exert more control over players when the ball is in the air.
Shooting isn't quite right either. The Knuckle shot is illustrative of the problem - it's a blasted shot that almost always hits the target, even when shooting directly from the kick-off, but rarely earns you more than a corner. For a football game, PES has always been bravely reluctant to let you actually score, but it still feels a little artificial.
Away from the pitch, the Master League is still the best single-player football experience around, but it's starting to show its age in places. PES has always provided the most endearingly obstinate AI opponents, and I will happily grind out 1-0 victories over them for hours at a time, but the contrast between what everyone else is doing with football career modes - whether it's EA Sports' FIFA Ultimate Team, or even Simon Read's New Star Soccer - and Konami's rate of progress is becoming quite jarring.
Sure, you can now unlock new boots and buy special equipment that boosts player performance (I immediately bought a Mini Goal so that Luis Suarez could practice hitting the post), but elsewhere you still spend hours staring at boring calendars and load screens wondering how much of your life is going to be spent not playing the game. It could do with livening up, then, although there's still nothing else like it once you're under its spell.
Elsewhere, the UEFA competitions and the Copa Libertadores are still licensed, although most of the teams and players in the game still aren't, and the training challenges still feel like a missed opportunity. You'll learn how to pull off most of the new tricks at your disposal, but you'll also spend ages swearing at the TV as practically identical attempts at things like the nutmeg shot are deemed failures or successes for no obvious reason. This mode could be amazing if given some proper attention.
Then again, PES is never particularly brilliant at this sort of thing, and in truth it doesn't matter. In its pomp, Konami did its talking on the pitch, and that's where PES 2013 rediscovers the series' form. FIFA may be at the height of its powers, a wonderful simulation of football at its most fluid and energetic, but PES 2013 is just as entertaining for different reasons.
It's about keeping possession, tracking runs, overloading full-backs, switching systems and the majesty of the well-contested nil-nil draw. Once you master the close-control trigger and start learning other button combos, it also reveals its flashy side. Just like the old days, you can't just pick it up and play it effectively, but if you persist then you'll discover something very special.
And that's fantastic news for football fans, because it puts us in a situation we've pretty much never encountered before, where FIFA and PES are both at the top of their game. Choose your favourite and have fun, or open your mind and buy both, because with PES now back to near its best this really is a golden era for football games. With the next-gen systems now on the horizon and Konami investing in a new UK development studio to support the series, this is a battle that can only get more interesting.