Konami details free PES 2013 DLC packs
Day-one cosmetic patch, online modes update in early October, summer transfers in mid-October.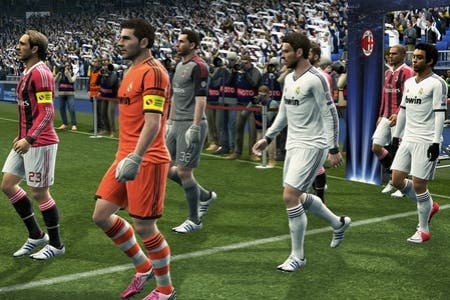 Just yesterday I was busy telling you how PES 2013 is a triumphant return to form and feels like a much more finished game than its immediate predecessors. But while that may be true for matters on the pitch, Konami still feels it has some work to do off it, and so is preparing a series of free DLC packs that add new online features and update licensed content and player data.
The content and player data updates will come in two bursts. The first is a day-one patch that adds three licensed stadiums for the newly promoted Spanish clubs (Celta Vigo, Real Valladolid and Deportivoooooo), as well as updating the kits for 37 licensed clubs including Marseille, Ajax, Porto, Besiktas and Corinthians.
The second will arrive in mid-October and reflects all the summer transfer dealings (presumably including Robin Van Persie's move to Manchester United, which hasn't gone through in the retail code we've been playing), as well as adding further stadia, UEFA elements, team updates and online element updates. We're promised more details shortly.
Before that, however, there will be an online modes patch early in October that adds a bunch of new features. There's a Widget system that will make it easier to bring friends together for online matches, as well as Community modes for auto-selecting friends to join you in multiplayer matches and tracking the results of your friendly encounters.
Other online tweaks will include the ability to concede a match gracefully at half-time (as opposed to pulling out the Ethernet cable, you shameless swine), and a Rival Ranking system for Master League Online players. The patch will also unlock the Incentives element of the myPES Facebook app, allowing you to share Achievements/Trophy progress with that girl you went to school with who added you at Christmas.
As mentioned, all the DLC packs are free, and Konami told us this morning that these won't be the last. PES 2012 enjoyed eight updates, for reference.
Anyway, if you haven't read our PES 2013 review yet, please do! After a few seasons of pain, Konami has really upped its game again this year, and with a new studio opening in London very soon the future looks bright again.