GAME is having trouble with launch day Nintendo Switch deliveries
UPDATE: Amazon, Nintendo UK store, ShopTo having issues too.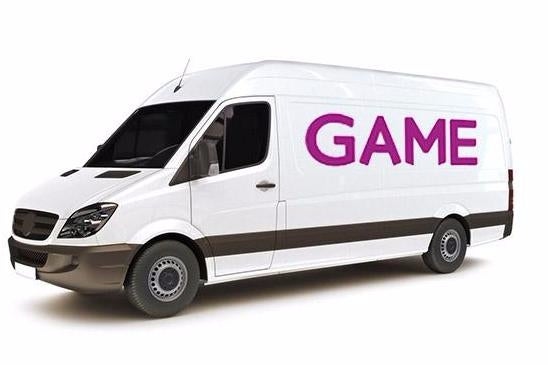 UPDATE 3.15pm: Back to GAME's issues now - and a spokesperson for the company has told Eurogamer that all orders will apparently be delivered by midday tomorrow.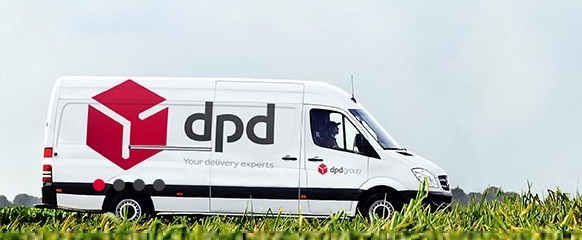 We contacted GAME for comment on this morning's story, below. The chain has assured us it is contacting everyone affected.
"We are aware some consumers have received conflicting emails regarding their Nintendo Switch orders being dispatched," a GAME spokesperson said.
"We'd like to apologise to those customers who have not received their consoles and assure them they will be delivered before midday Saturday 4th March, we are in contact with all affected customers."
Separately, we've heard DPD are struggling with demand - and that GAME, to be fair to the retailer, is indeed pressing DPD to hold up its contract to deliver.
As we write this, we're also getting reports from multiple affected customers expecting a DPD delivery who ordered not from GAME but from ShopTo. It seems the delivery company - for whatever reason - is being stretched to the limit with pre-orders.
---
UPDATE 2.25pm: It's not just GAME and Amazon UK on the naughty step - Nintendo UK's own official store has left customers out in the cold.
The official Nintendo UK store, run by Zavvi owner The Hut Group, has contacted a number of Switch customers to let them know their delivery will now be several days later than launch.
Eurogamer readers with affected orders have been getting in contact since we published our below story this morning.
"I had an email yesterday stating that all consoles would be despatched for next day delivery using Royal Mail tracked 48hr delivery. In the case of myself and other people, as of today, the consoles haven't even been received by the Royal Mail as yet," one reader told us via email.
"[I was contacted] initially to say delivery due 7-8th with a tracking number for RM," another reader told me, "and another to say to ignore that it will deliver next day and a tracking code will be emailed. [Since then,] nothing else and looking less likely it will be delivered."
We've contacted Nintendo UK to find out what's going on.
---
ORIGINAL STORY 11.55am: Did you pre-order a Nintendo Switch from GAME? Surprise surprise, it's launch day and the retailer is having issues.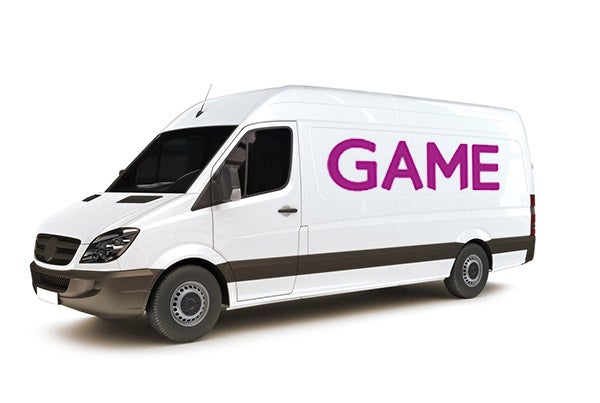 We've heard from a number of Eurogamer readers who were contacted this morning by delivery company DPD and told GAME still hadn't passed them the stock.
"We were expecting to deliver a parcel to you today; however, we have not yet received this parcel from GAME," DPD were left to inform GAME customers via email.
"As soon as we get your parcel, we will send you an email with your new delivery details. Until then, please contact the sender for more information."
A quick search of Twitter mentions for @GAMEDdigital reveals many more angry customers. In the last 10 minutes, as of going to press:
One of the customers affected is Gamer Network's unlucky Paul Watson, who you may remember from that time Bethesda asked him to smash a Fallout 4 soundtrack vinyl in order to obtain a refund.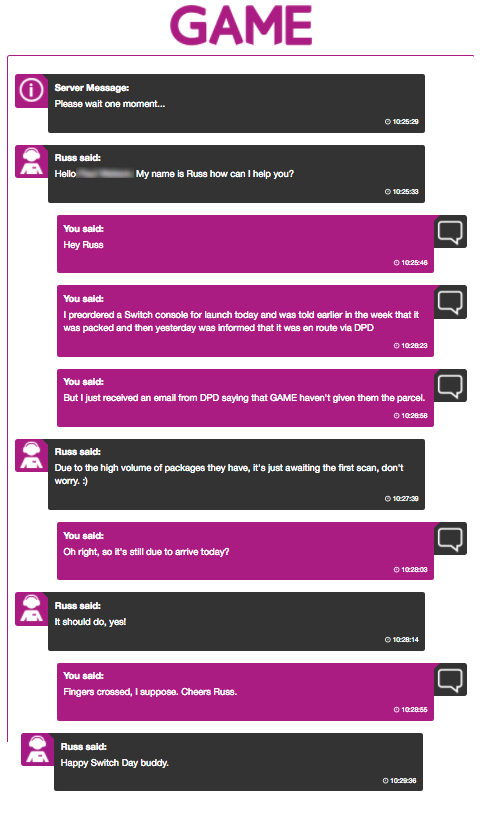 Watson was told that just because the orders hadn't been passed to DPD by mid-morning that did not mean they would miss delivery today. But others were informed otherwise.
"Happy Switch Day buddy," GAME's customer service rep told him. Here's hoping.
Meanwhile, Amazon customers have been having issues with The Legend of Zelda: Breath of the Wild copies - albeit on Wii U.
It seems the online retailer simply did not have enough stock to meet demand, and customers are now being given a revised delivery date of Monday.
"I'm very irritated, as I've taken the day off work today expecting to receive the game but now it won't arrive until Monday," one Eurogamer reader told us."
"Like many others this morning, I woke to find an email from Amazon stating that the dispatch of my Breath of the Wild order had been delayed until next week," another reader emailed in to say. "This, despite the fact the delivery date was estimated as today all the way through my pre-order period.
"After a frustrating chat with Amazon customer services, it seems like Amazon took too many pre-orders that they were unable to fulfill."
While Amazon customers have a confirmed Monday delivery to look forward to (or not), GAME customers are still in the dark whether their console will arrive. We've contacted GAME to find out what's going on.
So, how's your Nintendo Switch order going?