Paradox Interactive picks up the rights to Prison Architect
New 'Architect' games a possibility.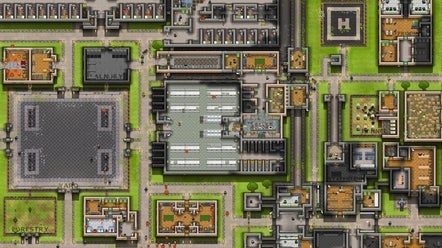 Paradox Interactive has acquired the rights to developer Introversion Software's enormously successful prison management sim, Prison Architect.
As part of the deal's official announcement, Paradox CEO Ebba Ljungerud called Prison Architect "a natural fit" for the company's catalogue, which features a host of strategy and management games, including the likes of Cities: Skylines, Stellaris, Surviving Mars, BattleTech, and Crusader Kings.
"I believe the considerable player base of Prison Architect will be excited to see where we can take the game next," said Ljungerud, "We promise to exercise good behaviour with this cherished title going forward."
To that end, Paradox will now take full responsibility for updating Prison Architect on all platforms - which includes PC, Xbox One, PS4, Switch, and mobile. The publisher also notes that it's "eager to explore" the possibility of developing new games within the 'Architect' IP.
Prison Architect, which first launched as a paid alpha in 2012 and officially released on PC in 2015, has proven enormously popular. It had made over £19 million USD by the time it came to consoles in 2016, and, to date, has sold over 2 million copies.
Commenting on Paradox's acquisition of Prison Architect, Introversion co-founder Mark Morris said, "We've been building and managing this building-and-management game for nearly a decade. I think we've taken Prison Architect just about as far as we can, and we're all eager to see where a team like Paradox can take it next!"
Prison Architect's most recent update arrived just before Christmas, and added co-operative multiplayer. Morris says that Introversion will be sharing news of its next project "soon."