Out This Week - 04/11/11
Uncharted 3! Sonic Generations! GoldenEye Reloaded!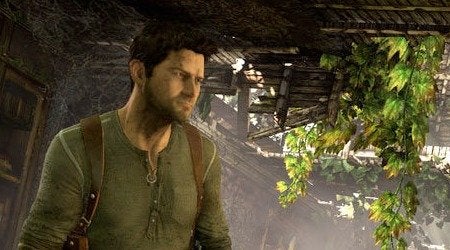 Who would win in a fight between Nathan Drake, James Bond and Sonic the Hedgehog? Wait seven days and the charts will tell us - all three heroes have new games out this week.
Uncharted star Drake is back for a blockbuster third outing, blending his trademark Indiana Jones adventuring with developer Naughty Dog's cinematic gameplay style.
Activision meanwhile has dusted off its digital Daniel Craig for GoldenEye 007: Reloaded. Craig again fills former Bond Brosnan's shoes in this souped-up version of the Wii's GoldenEye 007, now in HD and with Modern Warfare-style "MI6 Ops" missions.
Sonic mixes old and new gameplay of his own in Generations, a 20th Anniversary extravaganza for the series. Gamers play as Sonic's modern and classic counterparts across both 2D and 3D levels, which should hopefully keep everyone happy.
Cheering on from the sidelines are Ubisoft's Raving Rabbids. Their latest, Rabbids Alive and Kicking, is a Kinect title - a logical choice for the series' standard mini-game fare.
Other motion-sensing treats this week include Move-compatible 8/10 shooter Payday: The Heist and 4/10 adventure Hydrophobia Prophecy on PSN, while PES 2012 arrives on Wii.
Role-player Persona 2: Innocent Sin lands on PSP, while 7/10 tactical RPG Disgaea 4 releases on PS3, fighter BlazBlue: Continuum Shift II launches on 3DS and PSP and Dodonpachi Resurrection Deluxe lands on Xbox 360.
This Week in Shops!
Uncharted 3
Developer: Naughty Dog
Publisher: Sony
Formats: PS3
What is it? A third slice of set piece-stuffed adventuring with PS3 hero chap Nathan Drake. What does Eurogamer think? 8/10: "It is a majestic tribute to cinema, a movie game in the literal sense, and your enjoyment will be in precise step with your appreciation of that objective," Simon Parkin wrote in Eurogamer's Uncharted 3 review.
Sonic Generations
Developer: Sonic Team
Publisher: Sega
Formats: PC, PS3, Xbox 360
What is it? Sonic celebrates his 20th birthday with a game mixing old and new Sonic styles. How does it shape up to the Sonic's of old? Eurogamer's verdict is on the way.
GoldenEye 007: Reloaded
Developer: Eurocom
Publisher: Activision
Formats: PS3, Xbox 360
What is it? An HD port of last year's GoldenEye 007 on Wii, which was loosely based on the N64 classic.
What Else?
BurgerTime: World Tour (XBLA)
Blazblue: Continuum Shift 2 (3DS, PSP)
Disgaea 4: A Promise Unforgotten (PS3)
Dodonpachi Resurrection Deluxe (Xbox 360)
Get Up And Dance (PS3, Wii)
Hydrophobia Prophecy (PSN)
Just Dance Kids (Wii, Xbox 360)
Payday: The Heist (PSN)
Persona 2: Innocent Sin (PSP)
Pro Evolution Soccer 2012 (Wii)
Rabbids Alive and Kicking (Xbox 360)
Chart Predictions!
Each week one of the Eurogamer's finest attempts to foresee the future - or rather, what next week's top five games will be in the UK all-formats chart. The following predictions are for the week beginning Friday 4th October, to be reported the following Monday.
Oli Welsh, Acting Deputy Editor, Eurogamer.net
"If Microsoft can muscle FIFA off with Forza, Sony can certainly do the same with a much bigger marketing budget and the unquestionably spectacular Uncharted 3. I don't think Sonic will make the top five in his first week, but he's still a name with the kids, and I wouldn't bet against it happening before the end of the year if the good reviews continue to roll in. Activision's shown no interest at all in pushing GoldenEye Reloaded, so that leaves it to the usual suspects from last week - and I suspect they'll stay in formation, more or less, with Just Dance getting comfy at 5."
Uncharted 3
Battlefield 3
Batman: Arkham City
FIFA 12
Just Dance 3
Last week, Eurogamer Community Manager and Cress Watch creator Tom Champion tried his luck. How did he fare?
| Position | The Truth | The Prediction | Result |
| --- | --- | --- | --- |
| 1 | Battlefield 3 | Battlefield 3 | YES! |
| 2 | Batman: Arkham City | Batman: Arkham City | YES! |
| 3 | FIFA 12 | FIFA 12 | YES! |
| 4 | Football Manager 2012 | Just Dance 3 | NO! |
| 5 | Just Dance 3 | Forza Motorsport 4 | CLOSE! |
Your Chart Predictions!
Last week a misguided 45 per cent of you called Kinect Sports: Season Two as making the top ten in this week's UK Top 40. Wrong! A wise 44 per cent said it would finish below - and it did.
This week! Will Uncharted 3 unseat Battlefield? Make your finger clicks count.
Become a Eurogamer subscriber and get your first month for £1
Get your first month for £1 (normally £3.99) when you buy a Standard Eurogamer subscription. Enjoy ad-free browsing, merch discounts, our monthly letter from the editor, and show your support with a supporter-exclusive comment flair!