Open-world Lovecraft horror The Sinking City gets disorientating in new cinematic trailer
Plus some atmospheric new in-game footage.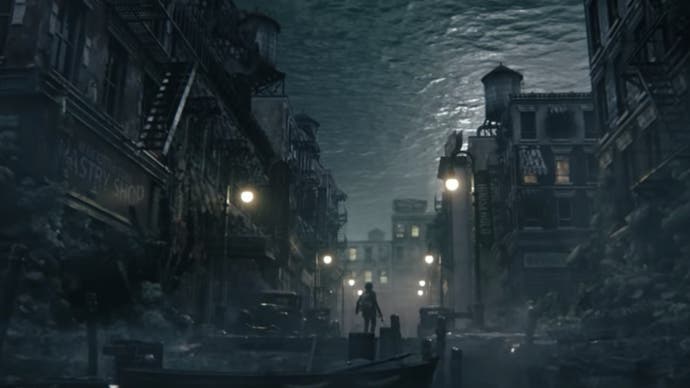 Developer Frogwares has unveiled a brand-new cinematic trailer for its promising Lovecraft-inspired open-world detective horror The Sinking City, just in time for Gamescom.
The Sinking City, which comes to Xbox One, PS4, and PC next year, unfolds in the fictional city of Oakmont, Massachusetts, during the 1920s. It's here that private investigator Charles W. Reed finds himself, desperate to escape, as Frogwares puts it, "the creeping insanity that afflicts him". As with the developer's frequently enjoyable Sherlock Holmes series, The Sinking City focusses on exploration and detective work, albeit with a few more unspeakable Eldritch terrors than would ordinarily bother Baker Street.
For its latest cinematic trailer, Frogwares has opted to shine a rather grimy spotlight on The Sinking City's more psychologically disorientating side, after all that nasty business with the razor blades and tentacles last time around.
As always with cinematic trailers, it's tough to gauge just how indicative the latest goings-on are of the final game, but if The Sinking City can muster the kind of gleefully impossible spaces and surreal set-piece moments we get here - I'm particularly fond of the ocean rushing down from the sky - then that'll be a very good thing indeed.
And if you're curious to see a little more of The Sinking City's in-game action, Frogwares has also released a new developer video, this time showcasing some of the ambient effects work that will give your travels around Oakmont, Massachusetts an appropriately cloying atmosphere - including thick fog, torrential rain, and moody lighting.
Hopefully it won't be too long before Frogwares is ready to reveal some of the specific gameplay systems that drive The Sinking City's core action - but there's no particular rush, given that the game isn't scheduled to unleash its tenebrous horrors until March 21st next year.