Investigative open-world Lovecraft horror The Sinking City gets a new teaser trailer
Ahead of a larger E3 reveal.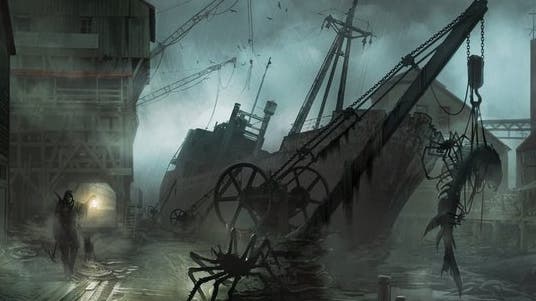 Developer Frogwares has unveiled a teaser trailer for its promising open-world Lovecraft horror, The Sinking City, ahead of a bigger reveal at this year's E3.
Frogwares has done some solid work with its Sherlock Holmes series over the years, and has form when it comes well-realised literary adaptations. The Sinking City is described as Frogwares' most ambitious project yet, and is built, says the developer, around three main pillars: open world, open investigation, and Lovecraft.
Its action unfolds in the fictional Oakmont, Massachusetts, in the roaring '20s, and everything shown so far looks wonderfully evocative of the era.
Unfortunately, as you might expect given Lovecraft's influence, Oakmont has its "fair share of dark and sinister secrets", with the city's secluded location enabling its inhabitants to hold onto its strange, old customs. "They practice often shocking religious rituals and ceremonies," explains Frogwares, and "their isolation and distrust of outlanders are only reinforced by the ongoing calamity that is tearing the city apart."
That calamity has come in the form of a mysterious flood, submerging the streets beneath blackened waters. And within those depths are Eldritch creatures beyond all comprehension.
The Sinking City casts players in the role of a private investigator, and, as with Frogwares' Sherlock Holmes series, there's a heavy focus on exploration and detective work - with the game's open-world nature intended to give players a rich array of options as they examine evidence to determine their next step. "We are serious when we say there will be no handholding, no markers on the map, no instructions in your diary," explains Frogwares, "You find evidence and talk to people to find something to push you forward."
Frogwares' new teaser trailer doesn't show off any actual gameplay, but it's certainly atmospheric, with its period setting, disjointed meandering, and multi-tentacled terror. However, the developer has been pretty open throughout The Sinking City's creation, so there's a decent amount of information to be found on its website. The update video above, for instance, does offer a small glimpse at the game in action.
The Sinking City is scheduled to launch on Xbox One, PlayStation 4, and PC, and a more thorough reveal will occur at this year's E3.