Of course someone's put the Fall Guys beans in Skyrim
Sweetroll out.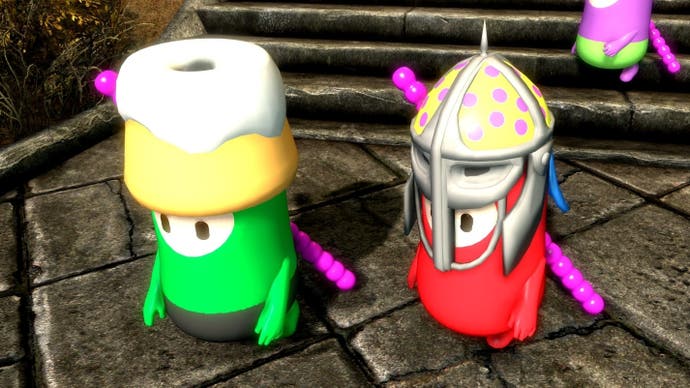 It was only a matter of time before someone put the cute jelly beans from Fall Guys into Skyrim (where all things end up, ultimately), and less than a month after Fall Guys' release, that mod has already arrived.
The follower mod, made by m150 and available on Nexus Mods for Skyrim SE, adds a variety of brightly-coloured jelly pals into the nordic world, including one that appears to be wearing a sweetroll as a hat (via PC Gamer). You can craft hats and weapons for the beans at a forge, and they will then use these sticks to ferociously poke at enemies. They seem pretty aggressive, but there's something horribly tragic about the way they lie on the ground when they've been slain.
If you want to collect your Fall Guys followers, all you have to do is visit Whitewatch Tower, which is north of Whiterun. Oh, and you'll need the Dragonborn DLC for it to work.
While the mod largely includes miniature Fall Guys followers, you might be surprised to hear that the big one listed at 183cm is actually canon. The Fall Guys Twitter account recently revealed the disturbing fact that the beans are actually 6 foot tall, meaning they could probably take you down quite easily in a real-life race to the finish line. Terrifying.