Gibson Cherry SG Guitar Hero controllers coming to Europe
Sign up to be told when.
We've been busy getting in the mood for Guitar Hero all week, talking to the developer and giving you the chance to win a drum head signed by Metallica's Lars Ulrich and an actual, proper Gibson SG Special guitar.
Today we've got some more fun - the chance to get first dibs on one of a very limited number of Gibson Cherry SG controllers, which will be coming to Europe within the next few weeks.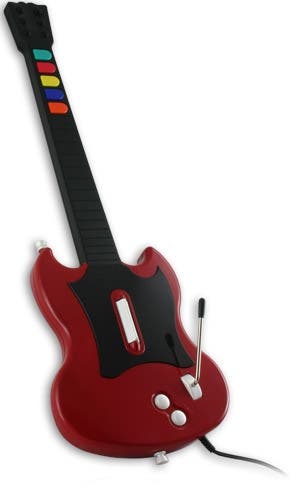 The guitars themselves - cherry versions of the Guitar Hero controller - will be available through www.guitarherogame.co.uk soon, but if you want to make sure you're there for when these extra controllers go on sale, email guitarhero@eurogamer.net today and you'll be alerted in advance of their general public release.
It's worth pointing out that we do not operate the mailing list, which is handled by the game's publisher RedOctane, but we're assured they won't use the details for anything else - just to let you know, before anyone else, how and when you can get your hands on the Gibson Cherry SG controller. Just don't get in the way of our order, obviously, or we might go all Courtney Love on you.