Relax with Mike Oldfield's Maestro
A musical virtual reality dimension from the Tubular Bells chap.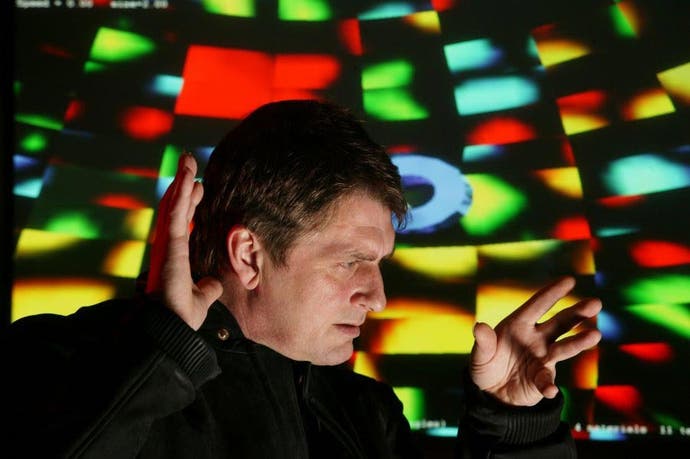 Here's a thing. Renowned composer Mike Oldfield is launching a "musical virtual reality dimension" next month, billed as "the world's first organised 'chill-out' online computer gaming experience". Coo. According to Oldfield's press people, it's called Maestro, and it's a freeform world in which you can fly around and discover, observe, compete or relax, as the audio-visual experience mimics Oldfield's Tubular Bells composition in that it's "an engaging and hypnotic journey for the senses", as well as a plain old computer game.
Starting out on the mothership "Virtual Voyager", players will find the environment reacts to their presence via subtle audio-visual changes (it all sounds a bit Rez-like, actually), as they set off on their prescribed quest to find the Gravitars, "alien characters that inhabit the Maestro universe and remain hidden in an ocean far away, waiting there to see if you can find them". It's the player's job - if he or she fancies it - to fetch the Gravitars and bring them to a pen on the Virtual Voyager. The player who brings back the fourth Gravitar will be rewarded with access to a special winner's level.
Apart from rounding up the Gravitars, players will also be able to collect platinum medals from the various levels of Maestro, solving clues and completing tests scattered throughout the levels, and joining forces with friendly players via message board. Players can also group with their friends by taking possession of Avatars - Avatars being a variety of objects including flying carpets and broomsticks.
What's more, Oldfield himself will apparently venture into Maestro regularly, and fans are encouraged to keep an on his website for details of when. His website, by the way, is the only way to get hold of Maestro, which is due for full release on April 12th. Apparently it will cost £14.95 if you download it, and £18 plus postage and packaging if you want it delivered.
As you can see from the screenshots we dug up on Oldfield's website, Maestro is a very peculiar looking little project, and we're still not entirely sure how it works. Still, if it's caught your interest then we suggest hotfooting it to www.mikeoldfield.com where you can download a demo ahead of the game's release next month. Bell-isimo.