New Age of Wonders 3 gameplay video shows empire building and leader classes
Notch's investment "significant money".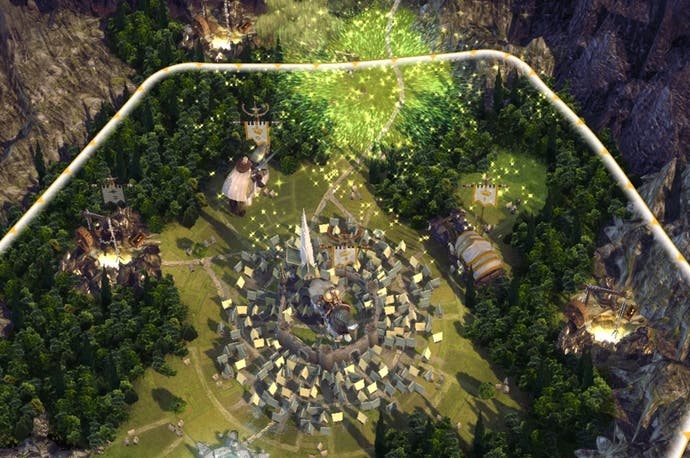 Developer Triumph Studios has released a gameplay video of turn-based fantasy strategy game Age of Wonders 3, showing off empire building and the series' turn-based combat.
The game revolves around the leader class. In past games you assumed the role of a generic role-playing class, such as the wizard. Now, these classes have been extrapolated to become leaders of a fantasy realm. So, the warrior becomes the warlord and the priest becomes the theocrat.
This change came about after Triumph decided to incorporate mechanics from its other game series, Overlord, which saw players control a powerful character who in turn controlled minions. "We tried to bring that experience into this game, but a lot bigger," director Lennart Sas told Eurogamer at the Game Developers Conference today.
"You're able to organise and develop any aspect of your empire yourself, and get this feeling that you're this really powerful guy calling the shots in your fantasy realm."
Age of Wonders 3 features a Civilization-style tiled map system for empire building, and a turn-based combat system with a free-roaming 3D camera for battles. You switch between the two modes as you grow your empire and conquer new lands.
Triumph aims to launch Age of Wonders 3 in the autumn of 2013 - but told Eurogamer it is unafraid to delay the game to early 2014.
Age of Wonders 3, the long-awaited follow-up to 2003's Age of Wonders:Shadow Magic, is "on the verge" of going into full alpha, with an autumn 2013 release window mooted on Steam, complete with the multiplayer Steam features you'd expect. Additionally, it will release DRM-free on Good Old Games, and on the other usual digital distribution suspects.
But Triumph, which is master of its own destiny as Age of Wonders IP owner, is unafraid to push the game into early 2014 to avoid the busy Christmas 2013 period or if the game needs extra work.
"All of the Age of Wonders games are mid-eighties on the Metacritic scale," Sas said.
"So it's very important for us to have the right amount of polish and not disappoint our fans... And not disappoint Markus of course!"
Sas's nod to Markus "Notch" Persson is in reference to his investment in the Age of Wonders 3 project.
As Eurogamer revealed earlier this year, Notch invested in the game after Triumph approached him. Sas wouldn't disclose how much Notch invested, but did say it was a "significant" amount of money.
"This was before the entire Kickstarter thing was happening," Sas said. "He said, 'Yeah, I want to invest in this game.' It allowed us to bring it to the market ourselves. He has a lot of experience going directo to consumers. It's been great so far.
"It's not like a multi-million dollar thing, but it's significant money. He does support Kickstarter games by buying the most expensive thing on the list. This is more than that."
Age of Wonders 3 includes a single-player campaign, multiplayer and play by email, which allows players to send their moves to others, which they can deal with at their leisure.
New screenshots are below.