Need for Speed: Most Wanted release date
UPDATE: PlayStation Vita version confirmed.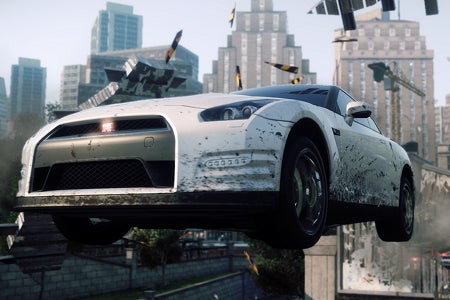 Criterion's second take on the Need for Speed franchise, a reboot of Most Wanted, made an impressive debut at EA's E3 press conference - and got a firm release date to boot.
Need for Speed: Most Wanted seemingly shares plenty of DNA with Criterion's Burnout series, with a live demonstration showing a vast open world that played host to destructive racing.
Like Burnout Paradise, races have a start and end point but are granted freedom to pick their routes.
The game will see the return of Autolog, the asynchronous multiplayer feature that debuted with Criterion's Hot Pursuit game two years ago, and one that's been the backbone of the Need for Speed series ever since.
Autolog has been tweaked for Most Wanted, with activities in-game earning Speed Points which can boost players up a Most Wanted list - and Autolog recommendations now can sit within the game world, allowing players to seamlessly take on challenges.
There'll be a special edition of the game that features custom liveries as well as two exclusive cars: the Porsche 911 Carrera S and the Maserati GranTurismo MC Stradale.
Need for Speed: Most Wanted is launching on 30th October in North America, and it'll be heading to Europe shortly afterwards on 2nd November. Confirmed launch platforms are Xbox 360, PlayStation 3, PlayStation Vita, PC, iOS and Android. It's on show throughout E3, and you can be sure we'll be head of the queue to play it.