What's going on at Criterion?
Matt Webster on the possibility of paid alphas, its new prototype and, of course, Burnout.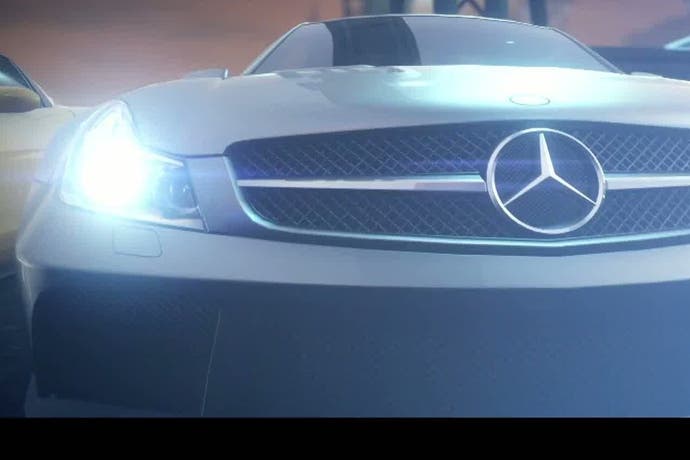 Criterion is in a state. The once mighty Guildford studio has been hobbled by the transferral of the Need for Speed series to the Gothenburg-based Ghost Games, as well as the departure of its racing-focussed staff who formed Ghost UK and, more pertinently, the departure of two of its founding members, Alex Ward and Fiona Sperry.
Or, Criterion is in the best place it's been for years. Stripped down to a core team of 25, its office stripped of corporate clutter and instilled with an easy-going, creative feel, it's returned to the independent spirit that birthed the Burnout games - and in its all-new IP, it's about to embark on its most significant game since the arcade racer that forged its reputation.
Which one of these to believe? Matt Webster, a long-time employee at Criterion who was appointed its general manager earlier this year, makes a strong case for the latter, of course. Criterion, he says, hasn't lost its spirit. It hasn't lost what's made it a success in a past. "When you make games, it's a team game," he says of the departure of the outspoken Alex Ward, a fiery character often identified as the heart of the studio. "It can't ever just be one person. The spirit of Criterion is not just defined by one person - it's the people who are in it. It's different for sure."
Yet many of those people that have defined Criterion - the ones behind its popular string of racing games - left last year, an exodus to Ghost UK to help on last year's Need for Speed Rivals ending with a round of lay-offs earlier this year. Has that not had an impact on the studio? "Even that was somewhat misinterpreted as well," says Webster. "We have a smaller team that was agile, and as we've sort of gone through the turn of the year, the last six months we've started to grow and add to that. And the phase we're in is we now know the game we want to make, so it's much clearer and we can now begin to scale the team."
"The team we've got, they've got two or three games under them, and a lot of them are Criterion veterans. Things grow and shrink all the time - and I've been doing this for a long time - it just happens so frequently. And, sometimes, it doesn't get as widely reported as it does now. There have been some changes for sure, and the one thing that's certain is that there is no certainty."
The only certainty with Criterion, it seems, is that whenever their name crops up the question of where the next Burnout game is coming from isn't far behind ("Even when you're doing Burnout people would say when are you going to do a Need for Speed game, and when you do a Need for Speed game people say when are you going to do a Burnout game," says a playfully exasperated Webster. "People have asked is Burnout dead - of course it's not. I'm sure we're going to come back to it at some point"). Despite the dramatic changes that have taken place since its last game, though, the chaotic, kinetic spirit that's defined Criterion's work is there in abundance in the new project it took to E3 to partly reveal.
A multi-vehicle, open world game where you're anchored to a first person experience, the untitled project feels like an extension of the knockabout action of Burnout Paradise, perhaps the most revered of Criterion's past titles. "We've kicked around the idea of multiple vehicles for years, and we've always been excited about doing something beyond cars," says Webster. "We hinted at that a little with the bikes we put into Paradise, and we were dicking around with some planes in there as well.
"That just kept coming back, and what you learn is when we keep coming back to something, that's a start point for us to start figuring something out. If you start with knowing Criterion and then adding multiple vehicles all in the same place, you know the trajectory that we're going on."
You might know the trajectory, but you won't know the name. The new project was revealed as part of EA's new push to show games at their prototype stage - an approach it took at E3 with Star Wars: Battlefront, Mass Effect 4 and Mirror's Edge 2 - and the snapshot of Criterion's work was taken at perhaps the earliest point. The backbone's there, though, and Webster suggests it won't be too long before more is revealed.
"You can sit and play this game for quite some time, even now, even in its prototype form. It's not like it's a deck of cards that's going to fall over really easily and hasn't any structure. There's a lot of structure in there, even though it's in prototype form. We've got some robust features in there, so even though there's a long way to go parts of it are fully formed. The fact we're talking about this now I would hope - well, I don't know what shape it'll be, as we're making it up as we go along - but I think we're not just talking about it but engaging people and getting hands-on earlier. Whether that's privately or publicly - we're yet to decide. That's what I think about when being a lot more open in this process."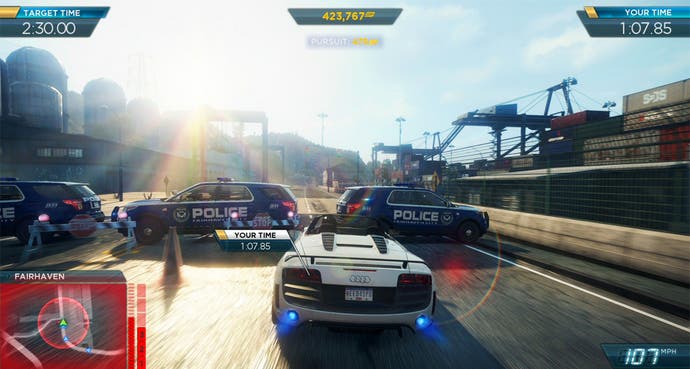 The success of crowd-funded games, and the subsequent transparency they're developed with, seems to have not gone unnoticed at EA - although it's still curious to see a major publisher adopt a mindset that's typically the reserve of the upstart, or at least the less well financially endowed.
"This is a company built on people that love making games, and loves games," says Webster, "so why can't you see what we're up to? And if you look outside this bubble that we live in, that's what people do when they're making games. They talk about them all the time.There's always been a demand of people wanting to know what you're doing, and we've kind of opened the doors a little bit. I know what's on Warner Bros slate for the next four years in terms of the movies they're making. Why can't we talk about games in the same way?"
There's a logical evolution of that, of course - and at a time when Sony and Microsoft look to be considering the early access model for their consoles, it's interesting that EA looks to be doing the same (a model that, many of you will point out I'm sure, was perhaps given a soft-run during the famously shaky launch of Battlefield 4). So will we soon see a big publisher adopt a paid alpha approach?
"I don't know about that," says Webster. "I don't see why not though. I don't get to make those calls. I think if you follow the logical progression of the way games are made, now, in a world where Sony show a game for the first time and say it's gone on sale today, in a world where we're showing stuff that might be many months away... It's never been easier to make games and publish games and get people involved with paid alphas or whatever. There are so many ways games get made and sold - and I think it's all going to change soon."