Monster Hunter World Iceborne's final update adds legendary black dragon Fatalis
Coming to Xbox One, PS4, and PC soon.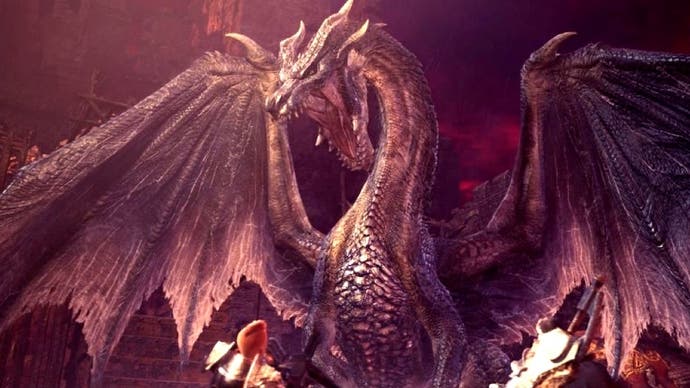 The end is nigh for Monster Hunter World Iceborne; as the expansion's first anniversary approaches, Capcom has confirmed that only one free content update, titled The Final Stand, is still to come. Happily, though, Iceborne is ending on a high, ushering in the series' infamous black dragon Fatalis as its final opponent.
Fatalis will be available on all platforms starting at 1am on 1st October in the UK (that's 5pm PDT on 30th September for our transatlantic chums) as part of Iceborne's final update; this also introduces a number of other features, as detailed in Capcom's latest developer video.
Fatalis, sometimes referred to as the Black Dragon, made its Monster Hunter debut all the way back in 2004, as part of the series inaugural outing on PlayStation 2. The creature retains its classic fantasy looks for Iceborne - its towering height, formidable wingspan, and fiery breath - but is even more imposing, thanks to its Monster Hunter World makeover, initially completed as part of the series' 15th anniversary celebrations.
Capcom says Fatalis will feature in a special fight situated within the grounds of Castle Schrade, with players needing to complete Iceborne's main story quest and the Alatreon investigation before they're able to embark on the quest. Qualifying players can farm the creature's materials in order to craft its associated hunter armour and weapons; however, the far more exciting proposition comes in the form of its special Palico armour and weapon set.
Once crafted, Palico will take on the appearance of a miniature Fatalis, and can brandish a pint-sized hunter that serves as a weapon in battle. Wonderfully, the hunter-weapon will ride atop the Palico-Fatalis when not in use.
Alongside the Fatalis, Iceborne's final update introduces the Arch-tempered Velkhana as a limited-time quest, a new Clutch Claw Boost skill, new layer armoured and pendants, new guild and squad cards, new room decor, plus other requested features and quality of life improvements, as detailed in Capcom's update breakdown.
Additionally, the developer has revealed that Iceborne players will be able to celebrate the impending spooky season in style when the Fun Fright Fest comes to the Seliana gathering hub on 16th October. Expect a number of holiday appropriate seasonal quests, granting access to Dracula-inspired hunter armour, a Frankenstein-themed Palico outfit, and more.