Media Molecule hails BAFTA success
"More versatility" coming to LittleBigPlanet.
Another awards night, another prize for Media Molecule, which last night collected the BAFTA for Best Videogame at the 2009 Children's Awards, having picked up the Artistic Achievement prize at the gaming ceremony earlier this year.
Clutching the weighty award, presented by The Gadget Show's Jason Bradbury, studio boss Mark Healey told Eurogamer: "It means a lot. It was always an early ambition to make something that appeals to adults and kids, specifically that adults and kids could play together and have fun and I suppose winning this some way confirms that maybe we did that.
"We've won so many awards for it, it's like, how do we ever top this? I don't think I'll appreciate how really cool it is until I'm old!"
The PlayStation 3 title beat competition in its category from Boom Blox Bash Party, de Blob and Viva Pinata: Pocket Paradise.
PlayStation UK boss Ray Maguire, also in attendance at the celebrity-packed bash at London's Hilton Park Lane, said: "It's absolutely fantastic. LittleBigPlanet is one of those games that comes along and it's absolutely unique.
"It's unique in the way it's formed, it's unique in the way it touches consumers, the way it allows them to contribute to the art form itself. It's as much a part of adult entertainment as it is kids' entertainment and that's one of the special things about it."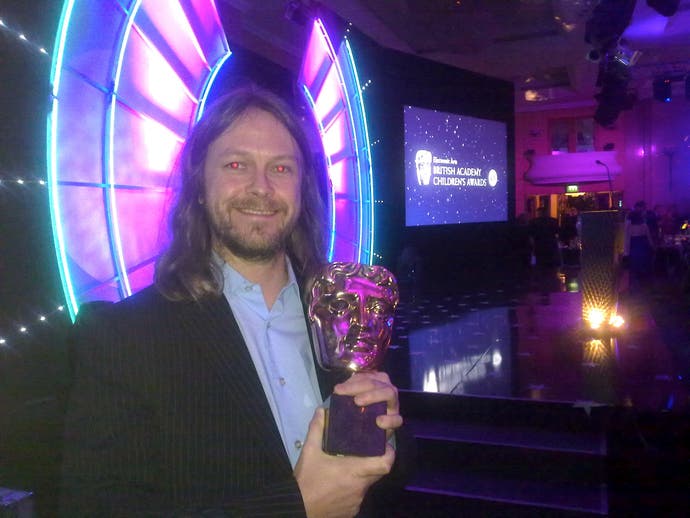 Maguire, who rushed over to Healey's table to congratulate him after the ceremony, added: "They are absolutely delighted. To have a new IP on a single platform do over half a million in the UK alone is just testament to the amount of skill and artistry that's gone in from Media Molecule.
"At the end of it, I sell and market the product; they're the ones that create it, they're the inspiration and they're the ones that deserve the award."
Asked what gamers could expect next from the franchise, Healey teased: "More versatility, that's what I'd say. LittleBigPlanet has a lot more room to absorb a lot more things before we say goodbye to that one. I think every year from now on should be a big year for LittleBigPlanet, hopefully".
The EA British Academy Children's Awards 2009 also proved a successful night for Nintendo, with Wii Sports Resort winning the Games category of the BAFTA Kids' Vote, voted for by children aged between seven and 14.
The event, hosted by TV presenters Dick and Dom, was attended by stars of film and TV plus gaming's own A-list, with Traveller's Tales head of development Jonathan Smith present, whose studio picked up the videogames award last year for LEGO Batman.