When Sony shut down a promising LittleBigPlanet PC fan-game, its creators scrambled to save the project
Keeping the dream alive.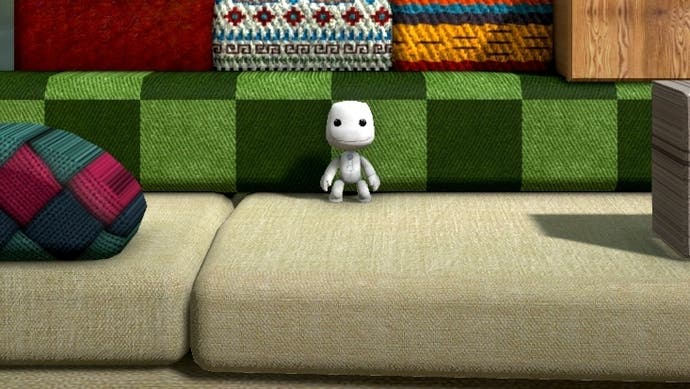 In 2008, Media Molecule launched its debut game LittleBigPlanet. The idea behind the ambitious project was to make a game where players could create their own stages and share them with a community of players, or as the tagline more succinctly puts it: "Play, Create, Share."
Upon its release, LittleBigPlanet received almost unanimous acclaim from critics, becoming one of Sony's most interesting exclusives for the PlayStation 3. But two sequels and several spinoffs later, the series has become somewhat dormant, with the lack of support frustrating the most dedicated fans.
Media Molecule appears to have put the series largely behind it, focusing its attention on its latest passion project, another creation game called Dreams. Meanwhile, those who are still playing LittleBigPlanet 3, the third game in the series developed by Sumo Digital, are reporting persistent problems with corrupted profiles and other glitches that are driving the community away. Problems that have led to some players posting tips on Reddit to avoid or limit the damage done. Things were looking grim for LittleBigPlanet fans. That was, until late 2019, when there was a beacon of hope.
In November 2019, Trixel Creative, a community of creators developing content for games such as The Sims 4, Dreams and LittleBigPlanet, announced LittleBigPlanet Restitched, a PC fan-game that would bring back Sackboy for another set of community-crafted adventures. But, as is the case for most fan-produced projects, it was shut down shortly after its exciting announcement, with Sony Interactive Entertainment Europe issuing a cease and desist via email in January 2020.
We reached out to the team at Trixel Creative a day before Sony sent this email for a feature that was originally going to be about the project's announcement. But after hearing the news, we wanted to find out what happened instead, how far the team got with the project, and why the developers dedicated the best part of a year to trying to revive the LittleBigPlanet series.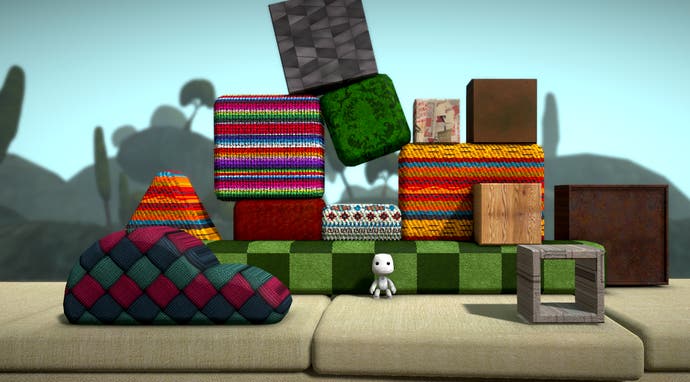 For most members of Trixel Creative, LittleBigPlanet wasn't just a game, it was a second home. Most of the developers we spoke to said they were younger than 10 when the first game came out. Some of them met their best friends playing LittleBigPlanet and credit it with having led to careers in programming, the arts and graphic design.
"I grew up with LittleBigPlanet from a young age," says Halston Stephenson, a US-based member of the Trixel Creative team who had worked on the project. "I was around eight or nine-years-old when it came out, and I always played it on a cousin's PS3. About a year or so later I got my own PS3 as a birthday present, and I immediately knew which game to get. From there it was love at first sight."
"LittleBigPlanet made me realise from a young age that making games was something anyone could do," says Ethan Hanbury, another member of the Trixel Creative team, based in the UK. "There were so many of us who would communicate through fan-forums and work on in-game projects together. I still talk to so many people I originally met through the LBP community and it's crazy to see what everyone has moved on to do. I'm currently in my final year studying computer animation as a 3D artist hoping to join the games industry for myself once I graduate in the summer."
"I discovered LittleBigPlanet when I was around eight-years-old," Julian Treveri, another Trixel Creative member from the US, tells me. "A neighbour showed it to me and I immediately started to beg my parents for a PlayStation and a copy of the game. I was totally addicted to creating things with it. I'd spend a lot of time lost in my own little world. Maybe a little too much time."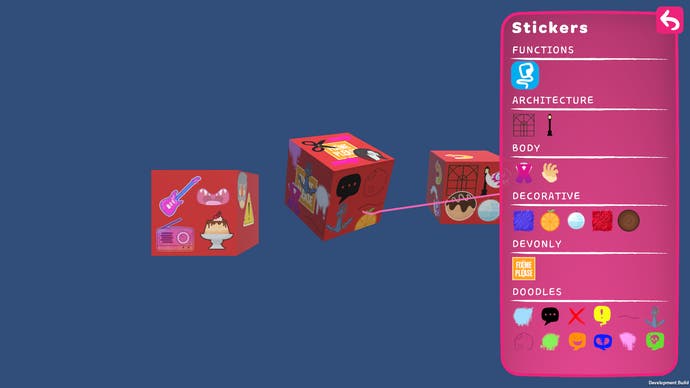 LittleBigPlanet Restitched came about when Treveri discovered an open-source code library called ClipperLib and its function to manipulate shapes by cutting and adding. Throwing it into Unity, he built a small prototype where players could paint and erase 3D shapes, similar to the create mode seen in the LittleBigPlanet games.
"The folks at Trixel had been wanting to build a LittleBigPlanet fan game for a while," Treveri explains. "When they saw this very rough framework for one, they asked if I had any interest in building a LittleBigPlanet fan-game with them, and I said yes!"
From there, the project entered development in early 2019 with the first four months focused on creating concepts, stickers, and implementing the user interface. Eventually, more members were brought on board, growing the team to 20 developers in total. This larger group started building the framework for the create mode, developing the player controls, physics, and a material creation system.
The plan was to create an experience that got fans of the series excited and talking about LittleBigPlanet again. Although, because of their inability to crowdfund out of fear of sparking a cease and desist from Sony, the project would have to make some compromises, such as looking into alternatives to online servers to provide players with a co-op experience.
"Everything started to come together after we had all worked separately for a few months, and it was magical," says Stephenson. "We compiled a build for our reveal trailer to be recorded in and, although it was buggy (as to be expected for such an early build), it all materialised pretty quickly. It was a strange yet welcome feeling to be playing LBP on PC, and it worked and felt a lot better than I think some of us expected it to!"
Aware of the shaky legal territory they were wading into, the team got in touch with the LittleBigPlanet community manager at Sumo Digital from the outset and were given some advice and guidelines. Among the tips they were given was to clearly communicate that the project was fan-made, so players would know it was not an official product of any kind. This meant putting a disclaimer in the logo itself to avoid confusion. They were also told to avoid crowdfunding for the game to ensure the project was entirely not-for-profit.
In spite of these precautions, a cease and desist arrived on the morning of Friday, 17th January 2020 in Trixel Creative's inbox, as well as the personal inbox of one of its members. It was an email - perhaps an inevitable one - that put a swift end to the project.
The prevailing reaction among the team seems to be bafflement. Not only because Sony had managed to contact a team member who hadn't made their email account widely available, but also because the team were aware of several other LittleBigPlanet fan projects that were seemingly unaffected. The cease and desist stated the reason for the take-down was "commercialisation" of the project, which caused even more confusion among the team.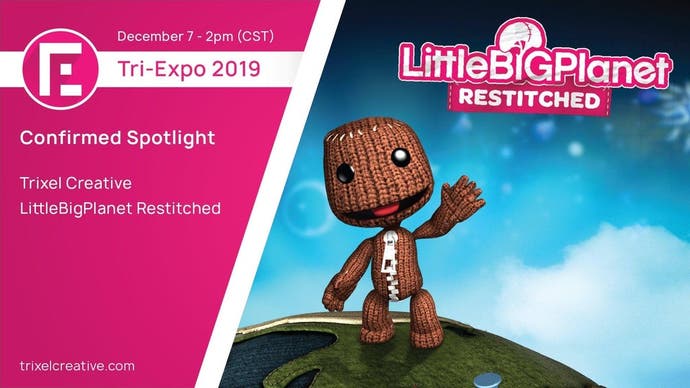 Was there a degree of naivety among the developers of LittleBigPlanet Restitched, a fangame that, whatever Media Molecule staff may have thought about it, used a Sony trademark and intellectual property without an licence agreement? Perhaps. Nevertheless, the developers now say they understand the move, believing the project's potential release on PC was likely an influence on Sony's decision to call in the laywers.
"We always knew it was ultimately up to Sony's legal department to protect their IP, and rightfully so," comments Stephenson. "[Although], the takedown was a bit of a surprise for us, considering the support we'd been shown from PlayStation-employed developers and the original creators of the IP, Media Molecule, who helped to support and livestream the reveal of the project during our Tri-Expo 2019 event."
"I was actually working on LBP Restitched as part of my final major collab project for university," adds Hanbury. "So it was a bit surreal when I had to explain to my lecturers that it had been taken down by Sony's legal team."
"We love and respect LittleBigPlanet and its developers, and we definitely aren't upset at Sony's legal actions," insists Stephenson. "We respect them highly, and they are simply protecting their intellectual property. If LittleBigPlanet were already on PC, then this might have been a different story entirely. In any case, we're all huge fans of the LittleBigPlanet franchise and can't wait to see where Sony will take it next."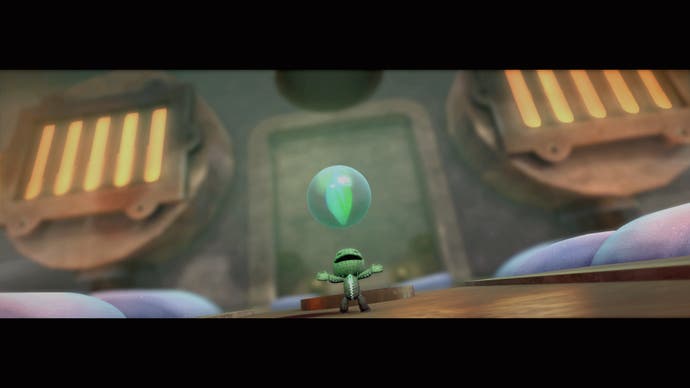 The team quickly set about scrubbing all mention of the fan-game from their website and decided to retool the project into something original. This new game is to be a user-generated content game in the same spirit as LittleBigPlanet, but with its own characters and visual identity. As to what this visual identity looks like, the team are reluctant to reveal too much.
"I would like this project to be what Parkitect is to RollerCoaster Tycoon," explains Thomas Voets, a Netherlands-based member of Trixel Creative. "A fresh, new take that modernises some stuff, but keeps the charm of the original largely intact, creating a fresh yet familiar experience. On a personal level, as a music creator, I want to make as many songs for the project as I can, so that people can really go wild with theming their levels."
"The programmers are eager to use the foundation we've made in our new, original UGC game," says Stephenson. "They've sunk several months into creating the setup for the user interface, lighting system, mesh editing for level creation, and player movement.
"We are looking at various UGC titles as a source of inspiration for many aspects of the game, but overall we want it to be something original while still capturing the essence of LittleBigPlanet that we all fell in love with. With this being a new title free from the constraints of strict legal guidelines and community expectations, a lot of opportunities are now open for us to create new content and mechanics. Who knows what you might see?"
We reached out to Sony as well as Media Molecule's Mark Healey, one of the co-creators of LittleBigPlanet, for comment. Sony has yet to respond, but Healey offered some nice words of encouragement to the team.
"It's great that LBP is so loved, and obviously I wish the team the best of luck with their future project/s," Healey says. "I love that LBP and Dreams can be a conduit for creators and teams to come together, blossom and break into new exciting circles, so maybe this story is that story."
While fans of the project may be disappointed by the news of LittleBigPlanet Restitched's cancellation, the prospect of a new game in the same style is an exciting one. LittleBigPlanet played a huge part in the lives of so many players growing up, and hopefully whatever Trixel is cooking up can create that same sense of community and inspire a new generation to keep the dream alive.