Mass Effect 3 DLC bundled with Razer peripherals
Keyboard, headset, controller include multiplayer extras.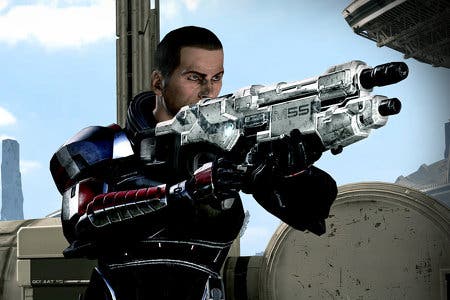 Not content with bundling Mass Effect 3 DLC with toys and books, developer BioWare has announced you'll also be able to pick up extra content for its forthcoming space RPG with a range of Razer peripherals.
Razer's new Mass Effect 3 line includes the following items:
Razer Imperator gaming mouse ($79.99)
Razer Vespula dual-sided gaming mouse mat ($34.99)
Razer BlackWidow Ultimate gaming keyboard ($139.99)
Razer Onza Tournament Edition Xbox 360 controller ($59.99)
Razer Chimaera Xbox 360 gaming headset ($209.99)
iPhone 4/4S protection case ($34.99)
N7 messenger bag ($79.99)
Pre-order any of the above and you'll pick up some in-game multiplayer content for the impending sequel, detailed on Razer's site as follows:
"The Razer Mass Effect 3 Collector's Edition peripherals and gear come with a redeemable code to unlock bonus item packs for Mass Effect 3 multiplayer, including the deadly Collector Assault Rifle to give you a leg up on the Reaper invasion. If you have already unlocked the Collector Assault Rifle, this code will strengthen the weapon further."
Mass Effect 3 is due on shelves for PC, PlayStation 3 and Xbox 360 from 9th March.