Machinarium coming to PSN next month
Someone get that man a cookie!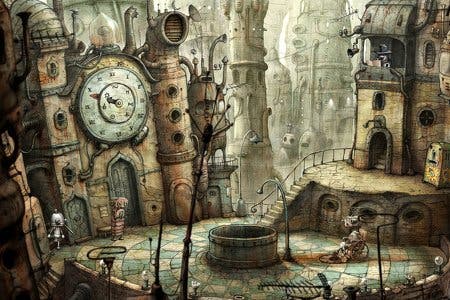 Darkly beautiful point-and-click adventure Machinarium is coming to European PSN next month, Sony has announced.
On a recent PlayStation Blog update, Sony's Ross McGrath wrote "What's more, two new titles as well in September, one brand new and one new to PSN - we're spoiling you rotten for sure."
In the comments section user Antares hazarded a guess, "Brand new game: Double Dragon Neon. Game new to PSN: Machinarium."
"Give the man a cookie, he's 100 per cent right!" McGrath responded.
Expect an official announcement shortly, and we've followed up to see if it will be on US PSN too.
The PSN version of Machinarium was referred to as "the ultimate version" by developer Amanita Design founder Jakub Dvorský at last year's GameCity6 festival. It will contain new functionality like being able to zoom.
Machinarium came out for PC in 2009 to rave reviews and since has been ported to WiiWare, iPad and Android.
Our Dan Whitehead was quite fond of it, awarding it an 8/10. "Machinarium is a treat for the senses that demands more of your brain, a paradoxically gentle yet punishing riff on a genre that, until now, had been revived but sadly defanged for modern players," he wrote in his Machinarium review.