PlayStation 3 Machinarium "the ultimate version"
Wii U "looks promising" for Samorost 3.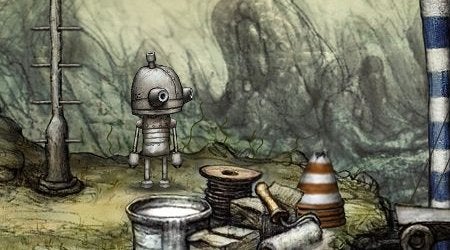 The PlayStation 3 version of enchanting point and click game Machinarium is the "ultimate version", developer Amanita Design has said.
The PS3 version of Machinarium, due out in February 2012, is "more fluent" than other versions, Amanita founder Jakub Dvorský told Eurogamer at the GameCity6 festival in Nottingham.
"This PlayStation version will be the ultimate version of Machinarium," he said. "There will be a few new features, such as zoom. You will have the ability to zoom to certain places. There will be Trophies. It will be more fluent. It's a really nice version. I'm quite happy with it. We're looking forward to it."
Machinarium on PS3 supports the PS Move controller, enabling actual point and click gameplay. But for Dvorský the game plays best on the DualShock.
"For me it's even better with the usual game pad controller because it's very easy to control this game with a game pad," he said. "We integrated a magnetic feature so when you are moving around a hotspot with the thumb stick it magnetises. It's quite easy to navigate and control the game. There are also more buttons for opening the inventory and for zooming.
"I like to test it because I can just sit on the couch and watch it on the big TV. It's much more comfortable. Also, many people have a much better sound system in their living room. We're happy people will experience the sound quality and the music - it's very important for us."
Amanita's delightful puzzle adventure first launched on PC back in October 2009, winning an 8/10 from Eurogamer's Machinarium review.
Meanwhile, Dvorský said Amanita is exploring a number of platforms for the upcoming Samorost 3, including the Wii U.
"Of course we want to bring it to as many platforms as possible," he said. "Definitely PC, Mac and tablets - iPad and Android tablets. And hopefully also some bigger consoles. We are in contact with Sony. They are interested, so we want to bring it to PlayStation. We're also interested in Xbox. Nintendo Wii U looks promising because it will be a powerful machine and that's what we want.
"Our games are not based on skills or controlling mechanism. It would work with many different styles of navigation. We're not concerned about control mechanism. Any platform is good for us if it's powerful enough."
One platform Amanita's games will not appear on, however, is the Wii. "We don't like Wii because the resolution is so low and there is a size limit on WiiWare of 40MB, which is so low for nowadays," Dvorský explained. "It's crazy."