League of Legends World Championships comes to London
Quarterfinals at Wembley Arena this October.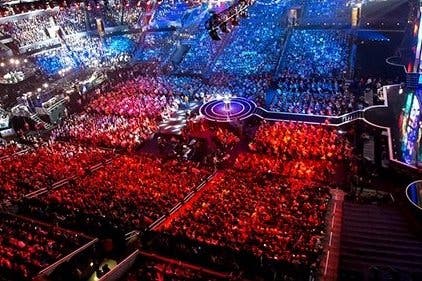 League of Legends' official 2015 World Championship will be coming to London this October, developer Riot Games has announced.
The massive tournament will actually be held in four stages with only the quarterfinals in London's Wembley Arena from 15th-18th October. The full World Championship will begin in Paris, then head to London, followed by Brussels and ending in an explosive conclusion on Halloween in Berlin. The full schedule is as follows:
Group Stages: 1st-4th October and 8th-11th October - Le Dock Pullman, Paris
Quarterfinals: 15th-18th October - SSE Arena Wembley, London
Semifinals: 24th-25th October - Brussels Expo, Brussels
Finals: 31st October - Mercedes-Benz Area (formerly O2 Arena, Berlin) - Halloween costume optional
Last year's World Championship ended in Seoul, Korea in a stadium of 40,000 spectators with 27m viewers watching it online. Though the highest numbers of concurrent viewers was closer to 11.2m, which is still pretty insane.
"Choosing locations for the 2015 World Championship was a complex and time-intensive process," the developer stated in its announcement. "We began our search in earnest over a year ago, looking for venues and cities that gave us enough flexibility to customize live esports experiences for fans in the seats, as well as creating entertaining backdrops for players watching along at home. In the case of Paris and London, we're thrilled to return to the major metropolitan cities that helped us blow the roof off 2014's All-Star Game and LCS."