Journey Collector's Edition innards confirmed
UPDATE: TGC reveals US release date, box art.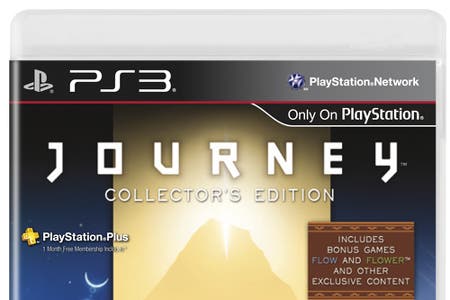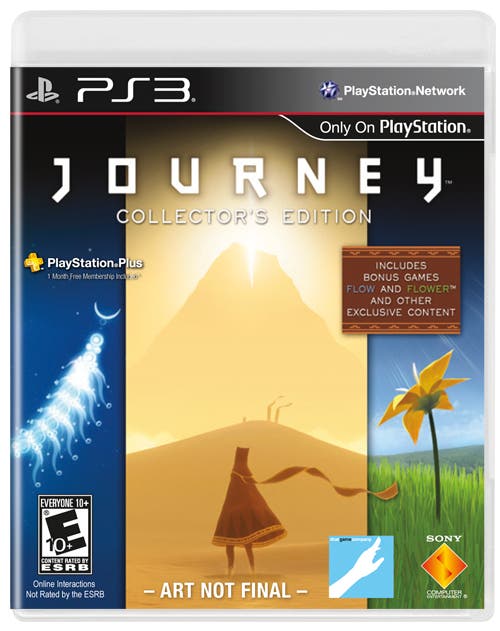 UPDATE: Journey Collector's Edition launches in the US on 28th August for $29.99, thatgamecompany has announced.
TGC worked with Sony Santa Monica Studio to create its first disc-based release. Release information for additional territories will be announced soon, it said. The game's US box art is above.
The complete set of bonus flOw, Flower and Journey content includes:
30-minute behind-the-scenes documentary about the making of Journey.
Creator Commentary play-throughs of all three games.
Three exclusive mini-games from thatgamecompany.
Concept art and screenshot galleries for all three games.
Original soundtracks for all three games.
PS3 dynamic themes and wallpapers.
PSN avatars including 8 exclusive new Journey avatars never released before.
Official game trailers and developer diary videos.
Reversible cover art.
The three mini-games were born out of TGC's 24 hour Game Jam. They are Gravediggers, Duke War!!, and Nostril Shot. "We share these mini-games as a 'thank you' to our players for supporting us over the years," the company said on its website. "In case the names didn't already give it away, these mini-games showcase thatgamecompany's lighter side with madcap competitive multiplayer action. We hope you sincerely enjoy their silliness as much as we have."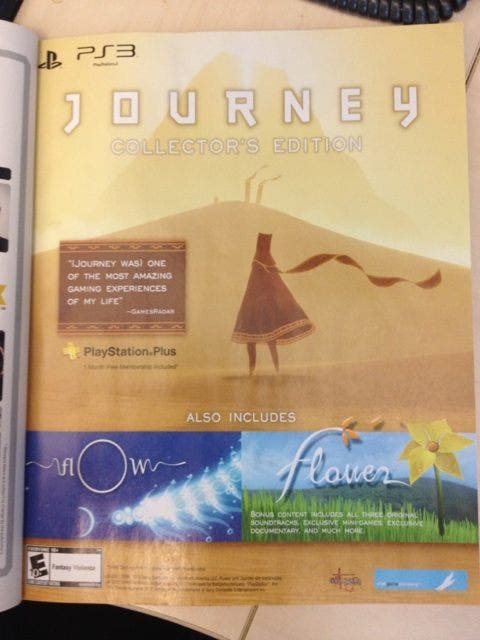 ORIGINAL STORY: The insides of the recently outed Journey Collector's Edition, otherwise known as the Journey Compilation, have been revealed by a magazine ad.
The latest issue of the US Official PlayStation Magazine carries the above ad (via OPM), which confirms that the collection bundles together all of thatgamecompany's PlayStation Network releases on a disc - Flow, Flower and Journey. That, we knew.
What we didn't know was that it also includes a PlayStation Plus membership and bonus content, including all three original sountracks, exclusive mini-games and an exclusive documentary. Oh, and "much more".
We've yet to see Journey Collector's Edition mentioned in the UK. Will it arrive on these shores?