Jelly Deals: Double Fine and Daedalic titles in this week's GOG sale
Plus, 25% off Dead Cells!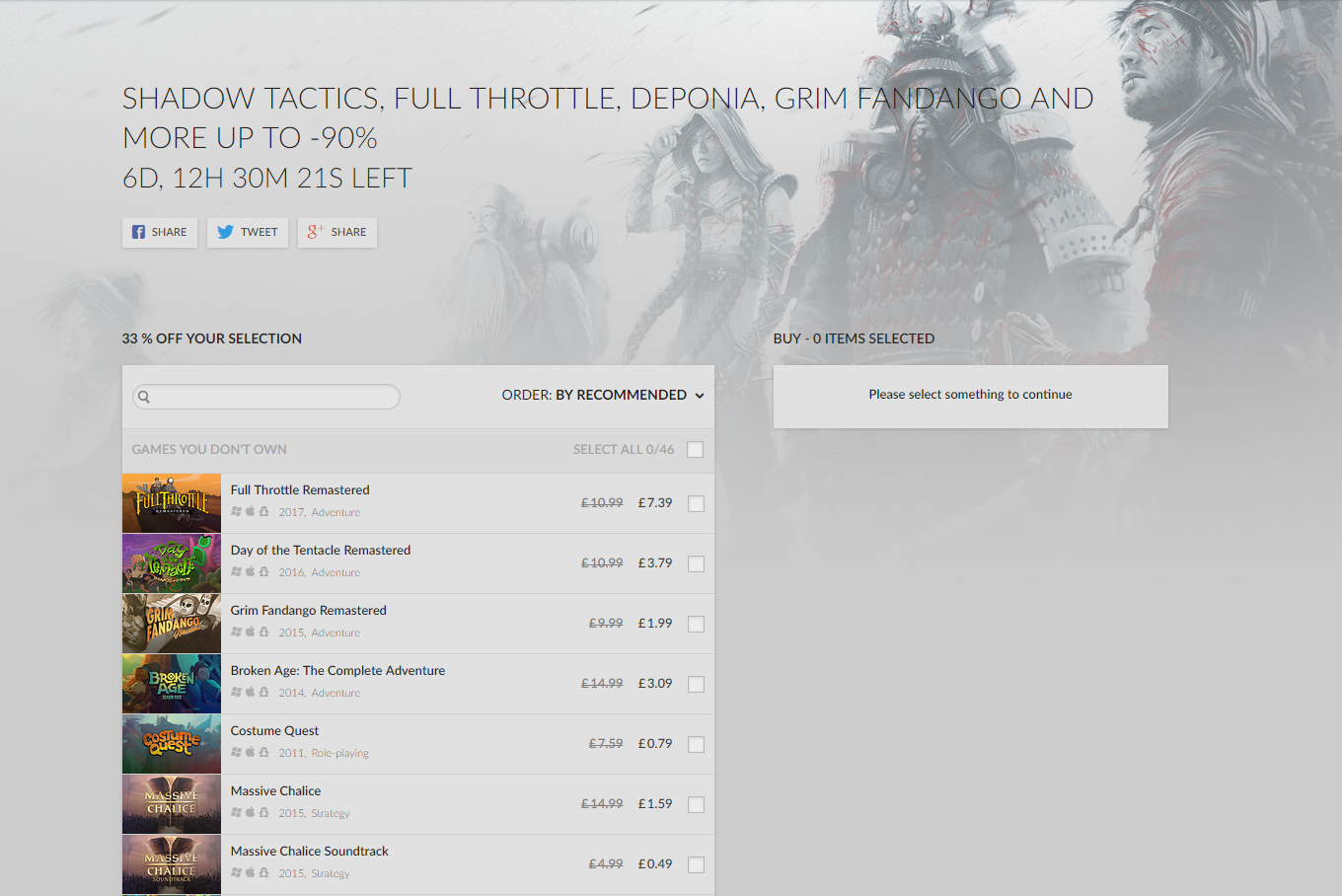 A note from the editor: Jelly Deals is a deals site launched by our parent company, Gamer Network, with a mission to find the best bargains out there. Look out for the Jelly Deals roundup of reduced-price games and kit every Saturday on Eurogamer.
---
GOG continues its quest to present a brand new batch of discounted titles each and every week this year. This week's range includes titles from Double Fine and Daedalic, with up to 90 per cent off the lot.
It's hard to go wrong with a sale range that includes remasters of Full Throttle, Day of the Tentacle and Grim Fandango as well as the Deponia series, games from the Holy Potatoes! franchise and Shadow Tactics: Blades of the Shogun. There are very many gems in this collection, mainly with an adventure game bent, so do check this lot out if that's your kind of thing.
One other thing that's new to GOG is Dead Cells, the little indie roguelike that could (and does). The game is seeing its first major update this week and has arrived on GOG in DRM-free form alongside a 25 per cent discount, bringing the price down to £10.49 / $12.74 temporarily.
As a reminder, with this month being what it is, we've got our own guides to the very best PC gaming Black Friday deals, as well as guides to PS4 Black Friday deals, Xbox Black Friday deals, Nintendo Black Friday deals and a whole bunch of other stuff. Feel free to check there for the next week and a bit for a near-constantly updated list of deals.
Here are some highlights from the current GOG weekly sale:
Full Throttle Remastered for £7.39 / $10.04 / €10.09
Day of the Tentacle Remastered for £3.79 / $5.09 / €5.09
Grim Fandango Remastered for £1.99 / $2.99 / €2.79
Broken Age: The Complete Adventure for £3.09 / $3.99 / €3.99
Psychonauts for £0.79 / $0.99 / €0.89
Shadow Tactics: Blades of the Shogun for £26.29 / $29.99 / €30.09
Randal's Monday for £3.09 / $3.99 / €3.99
Gomo for £0.59 / $0.79 / €0.79
Holy Potatoes! We're in Space?! for £5.99 / $7.49 / €7.49
Deponia 4: Deponia Doomsday for £7.49 / $9.99 / €10
Massive Chalice for £1.59 / $1.99 / €2.09