Black Friday PC deals 2021 - SSDs, monitors, keyboards, headsets and more
All the best Black Friday offers on PC components and peripherals.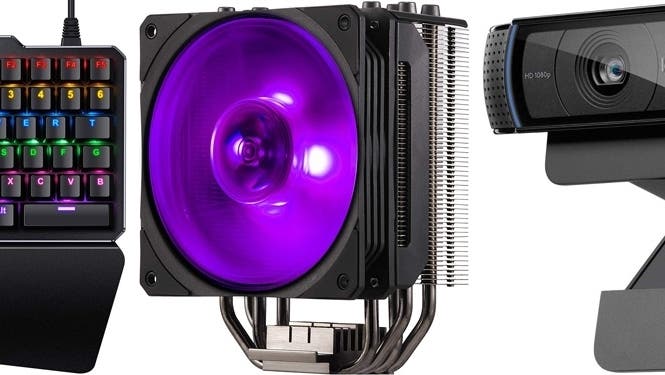 With the mega-sales event now on, it's time to take a good look at all the best Black Friday PC deals we've found on peripherals and components. Here at Digital Foundry, we've gathered up some of our top picks for monitors, storage, headsets, mice, keyboards, graphics cards and much more on this page.
We've also got separate recommendations for the best Black Friday 4K TV deals if you're looking to upgrade for the PS5 or Xbox Series X. Or if you'd rather get the job done in a single purchase, we've got the top Black Friday laptop and desktop deals available right now, too.
Next to that, Eurogamer has a trio of pages dedicated to the best Nintendo Switch Black Friday deals, all the top PS5 Black Friday bargains and any Xbox Black Friday offers that are currently in the wild. Do check those out if you're interested!
And if you need more info about any of the products in these categories below, you can view our more in-depth guides using the links provided in each section.
---
DF's Black Friday 2021 PC peripheral deals
Peripherals are a good starting point, since these will drive your PC gaming experience. They range from anything that sits on your desk including monitors, keyboards, mice, gamepads, headsets and mouse pads, as opposed to components inside your computer. Peripherals often see bigger gaps between their regular and sale prices, so expect plenty of respectable deals this time around. Take a look!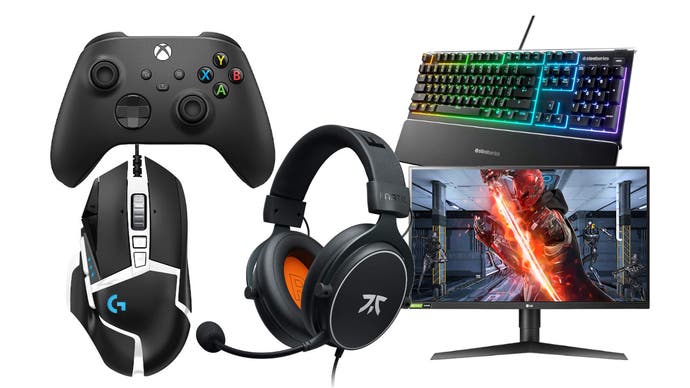 Black Friday monitor deals
Monitors are some of the most easily available items this Black Friday, thanks to a surfeit of new models and plenty of latent stock of old ones. These are some highlights but you can also browse the full range of Black Friday gaming monitor deals right here.
Want more info on which monitor to choose? Check out our best gaming monitors article!
Monitors in the UK:
Monitors in the US:
---
Black Friday headset deals
It's a great time to pick up a headset at a considerable discount, as older models normally have more or less the same features and quality as the new model, bar one new feature that you're not going to use anyway. Our favourite headsets right now are from SteelSeries and Sennheiser, but we'll be including the best deals on any other models we've tested or otherwise know to be good! If nothing grabs you here, you can find even more Black Friday gaming headset deals on our roundup page.
After more info on our gaming headset recommendations? Click through and browse away!
Headsets in the UK:
Headsets in the US:
---
Black Friday mouse deals
There's been significant innovation in gaming mice recently. We've seen ultra-light models become more popular, while manufacturers are focused on elements like safe shapes, high-end sensors and flexible 'shoelace' cables. We'll be hoping to see some discounts on gaming mice created by Logitech, Razer and SteelSeries, but there are plenty of other big names out there taking part in Black Friday this year.
Our top picks are below, but we've also gathered up many more Black Friday gaming mouse deals for you.
If none of these mice are quite doing it for you, why not look at our top gaming mouse recommendations? We also have a separate round-up for ultra-trendy ultra-light mice too.
Mice in the UK:
Mice in the US:
---
Black Friday keyboard deals
Membrane or mechanical, great keyboards make typing fun and can even help out in your favourite games. You know there are going to be some big discounts here, particularly on expensive mechanical keyboards, with Razer and Corsair usually sitting atop our 'most wanted' list.
Again, these are just some highlights. However, you can find a great deal more Black Friday gaming keyboard deals through the link.
Finding the right keyboard for you can take time, so do have a look at our gaming keyboard and mechanical keyboard recommendations here for more inspiration!
Keyboards in the UK:
Keyboards in the US:
---
Black Friday gamepad deals
We've seen the release of tons of gamepads for the Xbox Series consoles and the PS5, and that's meant PC players have more options than ever before to choose from too. Even the most hardcore mouse and keyboard players agree that some genres simply play better with a controller, so if that includes your kind of games, check out these options.
We've tested a wide range of gamepads over the last couple of years, so check out more recommendations right here.
Gamepads in the UK:
Gamepads in the US:
---
DF's Black Friday 2021 PC component deals
OK, let's switch gears here to the real nuts and bolts of the operation: the internal components that make your PC tick, from spinning disk hard drives and SSDs to graphics cards, processors and RAM. We don't normally see massive price swings on components as we do peripherals, but there are still plenty of Black Friday deals to be had!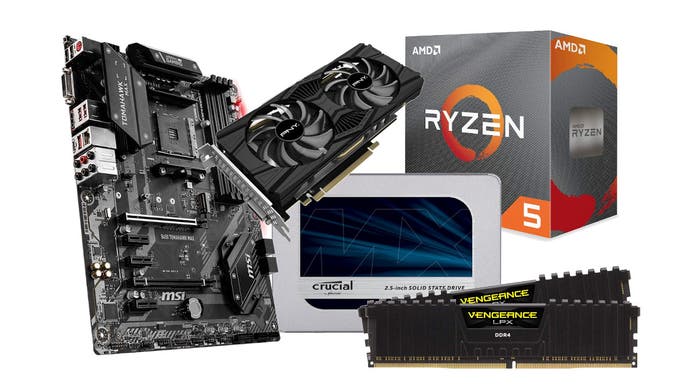 Black Friday SSD and hard drive deals
SSDs and hard drives, whether internal or external, are some of the most commonly discounted and best-selling items whenever Black Friday comes around. That's because most drives work across a wide range of desktop PCs and are regularly sought after as an upgrade. That makes this a great time to get more storage at a super-low price. Expect to find bulky external drives for console game storage and super-fast internal NVMe SSDs for desktop PCs and laptops, including PCIe 4.0 options - some of which work in the PS5 too!
Looking for more options? There are many more Black Friday SSD offers to choose from right here.
Our favourite SSDs for gaming article has more recommendations if you need them, including some drives that don't often go on sale but still offer great value for money.
SSDs and hard drives in the UK:
SSDs and hard drives in the US:
---
Black Friday graphics card (GPU) deals
Graphics cards are often the most expensive single part of any system, as well as the one that has the greatest impact on in-game performance. Unfortunately, meagre stock due to the ongoing silicon shortage and incredible demand means that we're unlikely to see any noticeable deals. Still, if that changes, we'll let you know here!
As for older cards? You might find some in our roundup of the best Black Friday graphics card deals for 2021.
GPUs in the UK:
GPUs in the US:
---
Black Friday processor (CPU) deals
There have been quite a few new processors released this year, with Ryzen 5000 and Intel's 11th and 12th-gen efforts hitting in the same year. If you're planning a new build, then picking up a CPU for cheap this Black Friday lets you spend more money elsewhere - like opting for a higher tier of graphics card or faster memory.
Processors in the UK:
Processors in the US:
---
Black Friday motherboard deals
Looking for a new motherboard? Right now, we recommend AMD's B550 and X570 platforms, or Intel's new-school Z690 boards. Both of the AMD options support PCIe 4.0, while Z690 goes even further with PCIe 5.0. These latest standards unlock access to higher speed NVMe drives and potentially small GPU performance gains, so they're a good future-proofing measure.
Motherboards in the UK:
Motherboards in the US:
---
Black Friday RAM deals
Faster RAM can provide a noticeable boost to frame-rates, especially on AMD Ryzen systems, so it's well worth considering if you can find a kit at a low price. Remember to stick to two or four sticks to ensure you're not sacrificing your speed and be sure to turn on XMP in your BIOS after installation! If you're not sure which sticks are best for you, we recommend 3200MHz C16 for most people. Higher frequencies do provide a performance advantage, with 3600MHz being a good sweet spot, but there are diminishing returns from there. DDR5 is also likely to be available, albeit not at discount, thanks to the recent launch of Intel's 12th-gen systems.
Check out our recent RAM testing here, where we examined how faster RAM affects gaming and content creation performance.
RAM in the UK:
RAM in the US:
---
Stay tuned for more Black Friday deals over the coming days. You can also follow our @dealsfoundry account on Twitter for the PC and TV highlights as we find them.