It looks like PS4 bundles are going to drop to £200 this Black Friday
Prices leak ahead of Black Friday.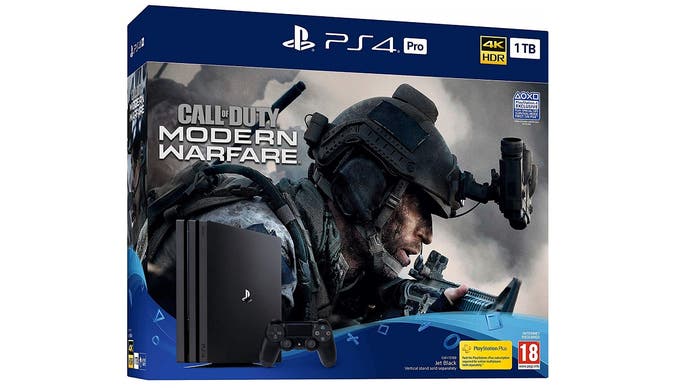 Update: and they're live! Find all the offers right here on our PS4 Black Friday hub.
While we eagerly await the big drop of PS4 Black Friday deals in a couple of days time, it seems we've already got a good idea of what to expect thanks to a listing on Asda.
Eagle-eyed deals hunters have seen that a PS4 500GB Call of Duty: Modern Warfare bundle is going to be available for £199.99. Sadly, if you try to add it to your basket right now it shows up as 'item unavailable'. Still, it's the lowest price we've seen for this particular PS4 bundle after it launched for £209.99 back in October.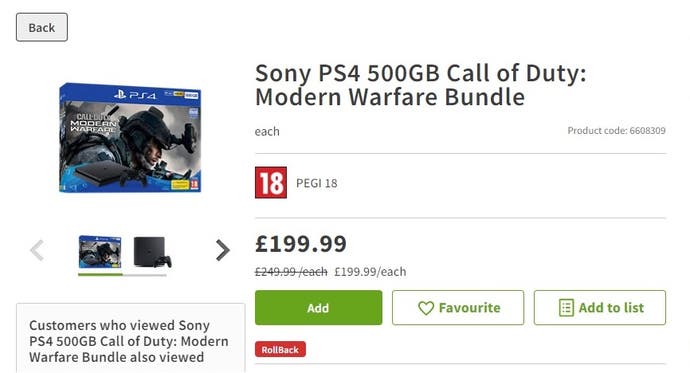 It's not clear yet whether other retailers will also price match their PS4 bundles on Black Friday, but it wouldn't be too outlandish to expect this is meant to be a regional deal that Asda may have let slip a little early. It seems even more likely given that 500GB PS4 bundles haven't been reduced at all just yet and there must be quite an appetite for a cheap PS4 this close to the end of the console generation.
If you're after something right now, the best we can bring you is a 500GB PS4 Fortnite Neo Versa bundle with an extra controller for £249. Maybe hold off for a day or two and see what happens with this deal!
In the meantime, you could get yourself prepared with the best PS Plus Black Friday deal over at ShopTo. Or stock up on some games to play including Borderlands 3 for £34.99, Assassin's Creed Odyssey for £15.99 or Red Dead Redemption 2 for £24.99.
Over in the UK, we have even more reasons to be bitter about the paltry PS4 offers so far considering the US has an incredible PS4 Black Friday deal. Across the pond, you can get a 1TB PS4 with God of War, The Last of Us Remastered and Horizon Zero Dawn - Complete Edition for only $199.99. No love for us, then, Sony?
This isn't the first time Asda has boasted one of the best Black Friday deals. Just yesterday, the retailer showed off that it would be selling a Nintendo Switch Lite for £169.99 in-store later this week.
If either of these offers crops up online over the next couple of days, you'll be able to find them in our PS4 Black Friday and Nintendo Switch Black Friday deals hubs. There's also our Xbox Black Friday page too, where we're looking forward to seeing if anyone will match Lidl's Xbox One S All-Digital Edition for £129!