Get a whole bunch of racing games in the Humble Codemasters bundle for just £12
Includes F1 2019, Dirt Rally 2.0 and Dirt 4.
You can take to the tarmac from the comfort of your own home thanks to the latest Humble Codemasters bundle.
Twelve games in total are lining up in the starting grid, ten of which will put you behind the wheel of various things that go vroom. Some of the bigger games featured include F1 2019, Dirt Rally 2.0 and Dirt 4 - all of which you can drive away with for just £12.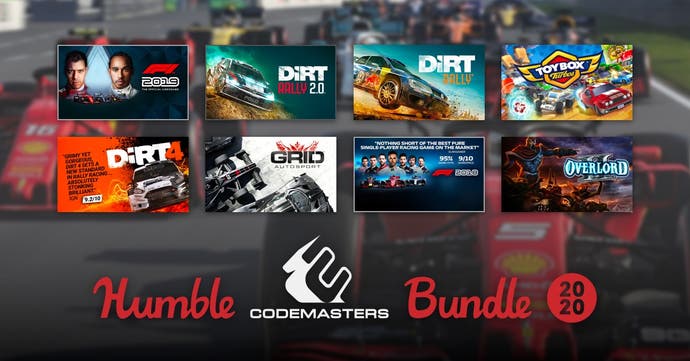 Of course, while Codemasters is known for its prowess on the track, they've also made a few games that don't feature cars. That other side is represented by both the minion manipulating antics of Overlord 2 and last-gen military sim Operation Flashpoint: Dragon Rising. Those crop up in the first tier along with Grid Autosport and Toybox Turbos for just a quid.
Here's how the rest of the tiers break down in the Humble Codemasters bundle:
Tier 1 for £1:
Grid Autosport
Toybox Turbos
Overlord 2
Operation Flashpoint: Dragon Rising
Tier 2 for ~£4.37:
F1 2018
F1 2018 Headline Content Pack DLC
Dirt Rally
Dirt 4
DiRT 4 DLC - Hyundai R5 Rally Car
DiRT 4 DLC - Team Booster Pack
Tier 3 for £12:
That final tier is incredibly good value for money considering both racers are currently sitting at full price on Steam. Even more so when you take Martin's Dirt Rally 2.0 review into account, which awarded the game with an Essential badge and called it "Codemasters' finest driving game yet".
As always, purchasing through Humble will also support a charity of your choice. The current featured charity is the UK-based SpecialEffect, which works with developers to improve accessibility in games for those with physical disabilities.
The Humble Codemasters bundle is available from now until 2nd July.
---
After more top gaming offers? You can find loads over at Jelly Deals. Join us to find the best SD card for Nintendo Switch, our picks for the best PS4 external hard drive or where to find the best Xbox Game Pass Ultimate deal.
---
Elsewhere at Humble, you can claim a free copy of wriggly and contorting puzzle-platformer Snake Pass for the next couple of days.