Uncharted 4, Dirt Rally 2.0 are April's PlayStation Plus games
Better Nate than never.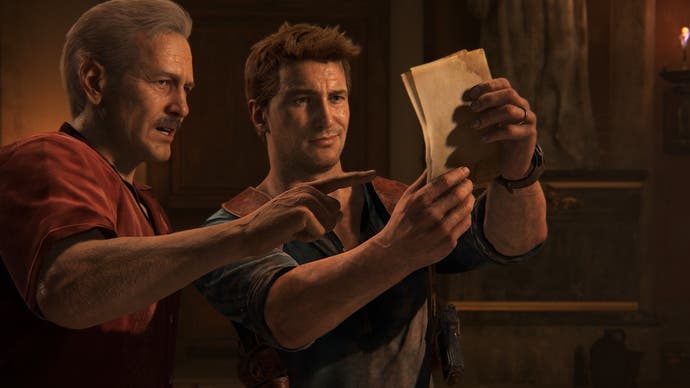 Another month, another fresh selection of titles waiting in the wings for PlayStation Plus subscribers to download, and April is a particularly strong showing for the service, ushering in Uncharted 4: A Thief's End and Dirt Rally 2.0.
Starting next Tuesday, 7th April, eligible humans can plot a course for adventure, courtesy of Nathan Drake's latest (and last) treasure hunting escapade, which initially released on PS4 back in 2016. It's a good 'un too, packing in the series usual set-piece heavy bouts of exploratory action, albeit with the 'spectacular' dial cranked right up to the maximum.
"As accomplished as Uncharted 4: A Thief's End is - as heroically as it bests its predecessors, as gracefully as it sidesteps their pitfalls - it's not possible for it to have the seismic impact and far-reaching influence that Uncharted 2 did," said Oli Welsh in his Recommended review, "Nor does it redefine the storytelling scope of the blockbuster action game like The Last of Us."
"It still does something remarkable for a major franchise video game, though," he concluded, "it doesn't overdo its exit. It doesn't immolate itself in a blaze of glory, it tells a story about people and finds peace in its resolution. It just ends. Fin."
As for Dirty Rally 2.0, that's another cracker, with Codemasters' revitalised racing action earning itself a Eurogamer Essential badge when it released last year. As Martin Robison put it, "The original Dirt Rally made a convincing claim at being the best off-road sim to date. I think its sequel can lay claim to being one of the best driving experiences available right now."
PlayStation Plus subscribers can add Uncharted 4 and Dirt Rally 2.0 to their ever-burgeoning libraries from Tuesday, 7th April until Monday, 4th May. March's offerings - Shadow of the Colossus and Sonic Forces - will remain available until Monday, 6th April.