Huge GOWIII special edition for US
Euro plans TBA, but demo codes issued.
Sony has announced the God of War III Ultimate Edition for North America, which concentrates more special bonuses into a single place than a massage parlour at Canary Wharf.
There's the obligatory art book (presumably not for the faint-hearted), a trilogy soundtrack, a documentary called "Unearthing the Legend", a heavy metal album inspired by the series, and in-game treats.
Said in-game treats include a "Dominus skin" (visible in the image below) and a combat arena with "seven unique challenges".
Not content with that, Sony is packaging the Ultimate Edition in an ornate-looking mock-up of Pandora's Box, complete with spindly groping hands, scary faces and horns, and all sorts of little nicks and dents to make it look old. It's the sort of object you might expect to house biscuits in HR Giger's kitchen.
After much fanfare on the US PlayStation Blog, Sony Europe leaped into action to say that European-specific "Special/Collector's Edition" and pre-order plans would be revealed in due course.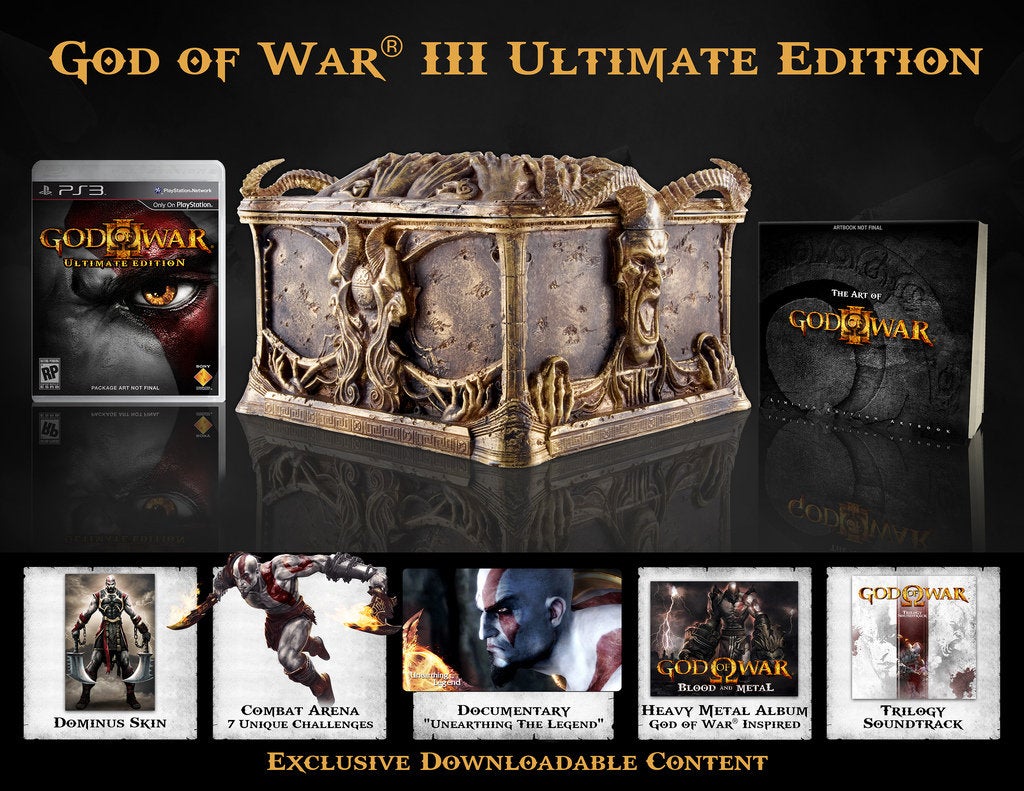 In the meantime, SCEE issued voucher codes to various PAL PlayStation Network users who had registered to receive a promotional newsletter, each of which is good for one download of the God of War III E3 demo.
Pointing that out may appear redundant since we've already in-depth performance analysis with HD frame-rate measurements, but we do so in order to remind people to check their email and also to advise that if you missed out you should make sure you are registered for the newsletter.
To sort that out, go to the PSN icon on the XMB of your PS3, then Account Management, then Account Information, then Notification Preferences, and order it to notify you in the event of things like this.
Another way to access the demo is to buy the God of War Collection, which is due out here next year and in the US on 17th November. As well as 720p renditions of Gods of War I and II, it includes a PS3 demo - presumably this one.
God of War III is due out in March 2010 and you can check out our hands-on impressions of the demo, which was at last week's Eurogamer Expo, elsewhere on the site.