Housemarque puts Stormdivers on ice in favour of new project
Unfinnished.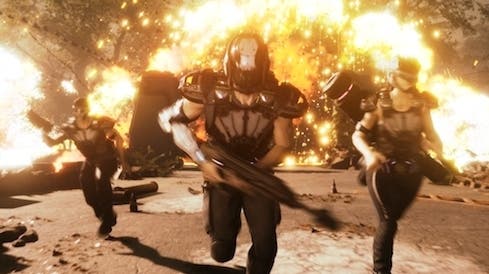 Given the ferocity of competition in the genre, this probably doesn't come as much of a surprise: but another battle royale has bitten the dust, and this time it's Housemarque's Stormdivers.
In a 25th anniversary post, the Finnish developer (known for arcade titles Nex Machina, Resogun and Super Stardust) explained it's now working on its "most ambitious and biggest game to date", and as a result, all other projects are being put on hold. It seems the unannounced title has been in progress for some time - three years, in fact - and has a team of nearly 80 people working on it.
"It is great that the whole company can come together to deliver this game, which will define the next evolution of Housemarque," says the post.
"Now we are in full scale production and super excited to reveal more in the coming months."
Stormdivers was initially planned to launch on PC sometime in 2019 - a deadline it clearly did not make, despite progressing to beta tests. As it's been placed on "indefinite hiatus" there's now no knowing when (if ever) it will be released. It's something the developer clearly saw coming, however, with CEO Ilari Kuittinen telling VG247 the game was "unlikely" to succeed due to competition from titles such as Apex Legends. At least it looked a lot better than Radical Heights.
Perhaps there's a chance Stormdivers could be resurrected in future, or transformed into something else (as Fortnite's battle royale mode was created from Save the World, for instance) - but for now we'll just have to wait for more details on that new project.