The new game by LawBreakers studio Boss Key is a 1980s battle royale
Out in "X-Treme Early Access" tomorrow.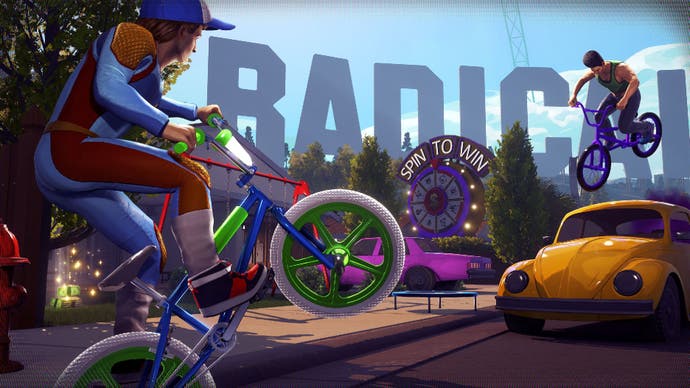 Cliff Bleszinski's studio Boss Key is launching a new game on Steam Early Access tomorrow and, surprise surprise, it's a free battle royale shooter.
The game is Radical Heights, and the theme is 1980s Californian game show. You earn prize money which you can pull from cash machines to spend on gear, and you ride around on BMX bikes.
But it looks like it's been thrown together in a hurry. It even describes itself as being in "X-Treme Early Access" - a term Boss Key has invented to mean 'even earlier access than you're used to', it sounds like.
"The core gameplay experience is complete," the Radical Heights Steam page says. "However, players should expect to experience placeholder assets in the world including models, audio, animation, and even entire buildings."
Nevertheless, Boss Key predicts Radical Heights will be out of Early Access after "about a year".
Last Friday, Boss Key admitted previous game LawBreakers had failed to find an audience. It said it was determined to give the game a second chance, maybe as free-to-play, but the conversion wouldn't happen overnight. Meanwhile, it added, the studio had been working on something new; presumably Radical Heights was it.